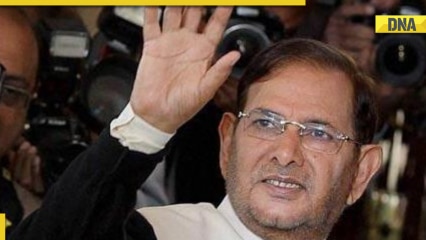 Sharad Yadav, Janata Dal United's founder and currently an RJD leader, died today. He was 75. His daughter Subhashini Sharad Yadav confirmed the bad news on Twitter. "Papa is no more," she wrote on Twitter.

Fortis said Sharad Yadav was brought to the emergency wing of the Fortis Memorial Research Institute in Gurgaon in an unresponsive state. He couldn't be revived.

"Shri Sharad Yadav was brought to the  emergency at Fortis Memorial Research Institute, Gurugram in an  unconscious and  unresponsive state. On examination, he did not have any pulse or recordable blood pressure. He underwent CPR as per ACLS protocols. Despite best efforts, he could not be revived and was declared dead at 10.19 PM. We would like to convey our deepest condolences to his family," it said in a statement.

Prime Minister Narendra Modi condoled his death.
"Pained by the passing away of Shri Sharad Yadav Ji. In his long years in public life, he distinguished himself as MP and Minister. He was greatly inspired by Dr Lohia's ideals. I will always cherish our interactions. Condolences to his family and admirers. Om Shanti," he tweeted.
Sharad Yadav had been a minister in the National Democratic Alliance's Atal Bihari Vajpayee government. He became the president of JDU in 2003, a party he founded with Nitish Kumar. He remained in the party till 2017, when he fell out with Kumar over his entry into the Nitish Kumar government.

#Sharad #Yadav #JDU #founder #Union #minister #passed #Gurgaon