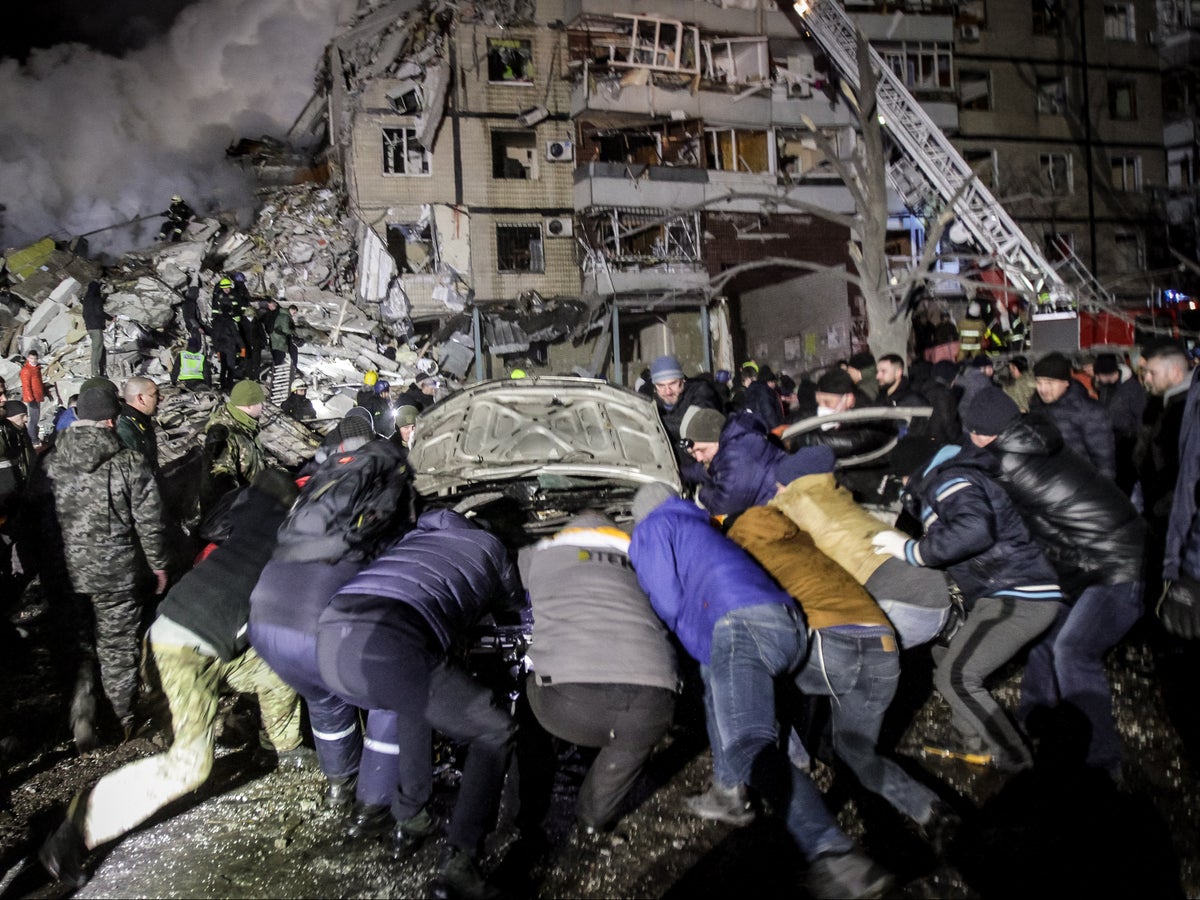 At least five people were killed and 20 pulled from rubble as Russia unleashed a major missile bombardment on Ukraine, smashing a nine-storey apartment block in the central city of Dnipro.
At least 60 people, including 12 children, were wounded, and more people were still trapped under the rubble, the regional governor said.
The attack came as Rishi Sunak told Volodymyr Zelensky the UK would send his country battle tanks – the first Western power to do so.
The prime minister said the main battle tanks would help Kyiv to push Russian forces back.
Government insiders said making the decision now would ensure Ukrainian soldiers could be trained in using the mobile weapons before a potential spring offensive, predicted as the weather warms and the Ukrainian mud dries out.
"The prime minister stressed that he and the whole UK government would be working intensively with international partners to deliver rapidly the kind of support that will allow Ukraine to press their advantage, win this war and secure a lasting peace," Downing Street said.
There are reportedly fears in Ukraine that Russian president Vladimir Putin could amass up to 500,000 troops on the front line by April.
The latest Russian missile strikes hit energy facilities, and supplies were disrupted, particularly in Kyiv and Kharkiv. Ukraine's energy minister warned the coming days would be difficult.
Months of Russian bombardment of the power grid have left supplies of electricity, running water and central heating vulnerable during the height of winter.
In Dnipro, a section of the apartment block hit was reduced to rubble on Saturday, sending smoke billowing into the sky, the deputy head of Ukraine's presidential office said.
"Tragedy. I've gone to the site … We will be going through the rubble all night," said mayor Borys Filatov.
Another attack hit a critical infrastructure facility in Kyiv, as air raid sirens and explosions rang out in the Dniprovsky district of the capital. Officials told residents to take shelter immediately.
Earlier, Russian missiles hit Kharkiv, Ukraine's second-largest city, Oleh Syniehubov, the regional governor reported. He said Russian forces fired two S-300 missiles at the industrial district.
Ukraine shot down 21 out of 33 incoming Russian missiles on Saturday, top commander Valeriy Zaluzhnyi said.
Mr Zelensky said the battle for the small salt-mining town of Soledar in the eastern Donetsk region was continuing, contrary to Russia's claims.
On Friday, Moscow said it had taken control of Soledar after days of fierce fighting. Russia's foreign ministry said the capture would allow its units to cut off Ukrainian forces from the nearby, larger town of Bakhmut.
Mr Zelensky appealed to the West to supply more weapons to prevent further deaths from "Russian terror".
"What's needed for this? The kind of weapons that our partners have in stockpiles and that our warriors have come to expect. The whole world knows what and how to stop those who are sowing death," he said.
Earlier this week, Western officials warned that Ukraine would not be able to take back significant territory from Russia without an increase in fighting power, including tanks and other heavy armour.
The Russian embassy in the UK warned that providing tanks to Mr Zelensky's forces would "generate more casualties, including among the civilian population". The Challenger 2 tanks would become legitimate targets for Russian forces, it said.
Mr Zelensky thanked the UK for the decision to send tanks, saying it would "not only strengthen us on the battlefield, but also send the right signal to other partners".
It was reported that Mr Sunak was preparing to send four Challenger 2 main battle tanks immediately, with eight more to follow shortly afterwards.
No 10 has not yet confirmed how many tanks it will send Kyiv, and foreign secretary James Cleverly said the defence minister would give parliament on Monday details of the main battle tanks, the artillery and other military support the UK is sending.
There have been concerns within Nato that supplying tanks could be regarded by the Russians as a further escalation of the conflict.
The US has promised 50 Bradley tank-killing armoured vehicles, and Germany says it will supply around 40 Marder armoured personnel carriers. France has promised wheeled AMX-10 RC tank destroyers, which it hopes to deliver in two months.
#Western #power #send #Ukraine #battle #tanks #Russia #launches #fresh #missile #attacks