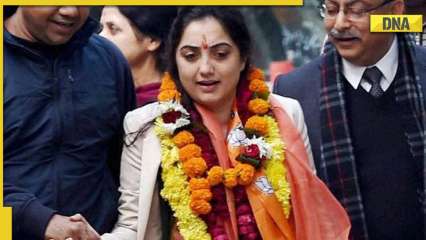 Nupur Sharma had apologised for her remark on social media. (File)
Former BJP spokesperson Nupur Sharma has been granted a gun license. She had applied for one weeks after her remark against Prophet Muhammed triggered an international row. Sharma had expressed apprehensions that she might be physically harmed by extremists and fundamentalists over the controversy. Who is Nupur Sharma? What was the controversy? Why did she apply for a gun licence?

Who is Nupur Sharma? Nupur Sharma is a politician and a lawyer. She was a BJP spokesperson until June 22, when she was removed from the post by the party. She was also suspended from the primary membership of the party.

Nupur Sharma's family comprises civil servants and businessmen. She is highly educated. She did her schooling from Delhi Public School, Mathura road. She graduated from the Hindu College, Delhi University. She later completed her Bachelor of Laws at the Delhi University. While in college, she joined ABVP, BJP's student wing. She became the president of the students' union in 2008. Even during student politics, she had started appearing on television debates.

Sharma later went to London to study. She earned a Master of Laws degree from the prestigious London School of Economics at the University of London. She became a full-time lawyer after that.

She returned to India in 2010 and joined BJP. She became a working committee member of Delhi BJP in 2013. She lost the 2015 Delhi Legislative Assembly election against Arvind Kejriwal on a BJP ticket.

Under Manoj Tiwari's leadership, she became the official spokesperson of Delhi BJP. In 2020, she was appointed as a national spokesperson. She started appearing on TV debates regularly, defending BJP's politics and policies.

On May 26, 2022, she made a controversial remark against the Prophet while participating in a debate on the Gyanvapi Mosque row. The remark went viral and thousands of people from the minority community protested against her in many parts of the country.

Here's a timeline of the controversy.

May 26: The TV debate took place.

May 29: First FIR registered in Kanpur.

May 30: Another FIR registered.

June 3: Protest in Kanpur turns violent.
June 4: Several muslim-majority countries registered an official protest with the Indian government against Sharma's remark.

June 5: Nupur Sharma apologised for her remark on social media.

Why did she apply for a gun licence?

During the controversy, Nupur Sharma appealed to the media not to reveal her address as she had been receiving threats on social media. She had received rape and murder threats. Her remark polarised the social media. One section supported her remarks, the other opposed them. She also received texts threatening to behead her. Since apologising for her remark on Twitter, she has kept away from social media.

During the violent protests, many people raised 'Sar tan se juda' (head to be removed from the body) slogans.

Disturbingly, a chemist in Maharashtra's Amravati, Umesh Kolhe, was murdered because he supported Nupur Sharma on a WhatsApp group. Weeks after that, a tailor in Udaipur, Kanhaiya Lal, was murdered by two men who barged into his shop, posed as customers, and then hacked him to death on camera.

The fact that Kolhe was murdered for supporting Sharma came out after Kanhaiya was murdered.

Sharma has 10 cases against her in 8 states. She has not appeared in public since the controversy.
To keep herself safe, she had applied for a gun license.

Meanwhile, AIMIM chief Asaduddin Owaisi has claimed BJP will field her as a candidate in the 2024 general elections.
#Nupur #Sharma #London #School #Economics #graduate #BJP #exspokesperson #gun #licence