Recently, yesteryear star Reena Roy expressed her desire to make a comeback to showbiz. Not very long ago Meenakshi Seshadri and Oye Oye girl Sonam too had shared with ETimes that they are very much keen on reviving their acting career. 80s actresses like Poonam Dhillon and Padmini Kolhapure have already made their comeback in the recently released web series Dil Bekaraar. And there are many more like Mandakini, Mumtaz, Shilpa Shirodkar among others waiting for that one opportunity that puts them back in the spotlight and accelerates their career in showbiz.
As casting director Kunal M Shah tells ETimes, comebacks really work very well in Bollywood. "The major reason is that there is a certain recall value that people have. The fact of the matter is that the stars have already ruled in their heyday, and have been liked and loved and respected and have lots of accolades to their credit because they are good actors. Sushmita was fantastic in Aarya, Bobby was brilliant in Aashram and people lapped it up. I think this has kind of set a trend for the other actors to come back. Actors also who had quit the industry now are looking at interesting content and are excited to be a part of it because they know they have a lot more to do. Once an actor, always an actor," he quips.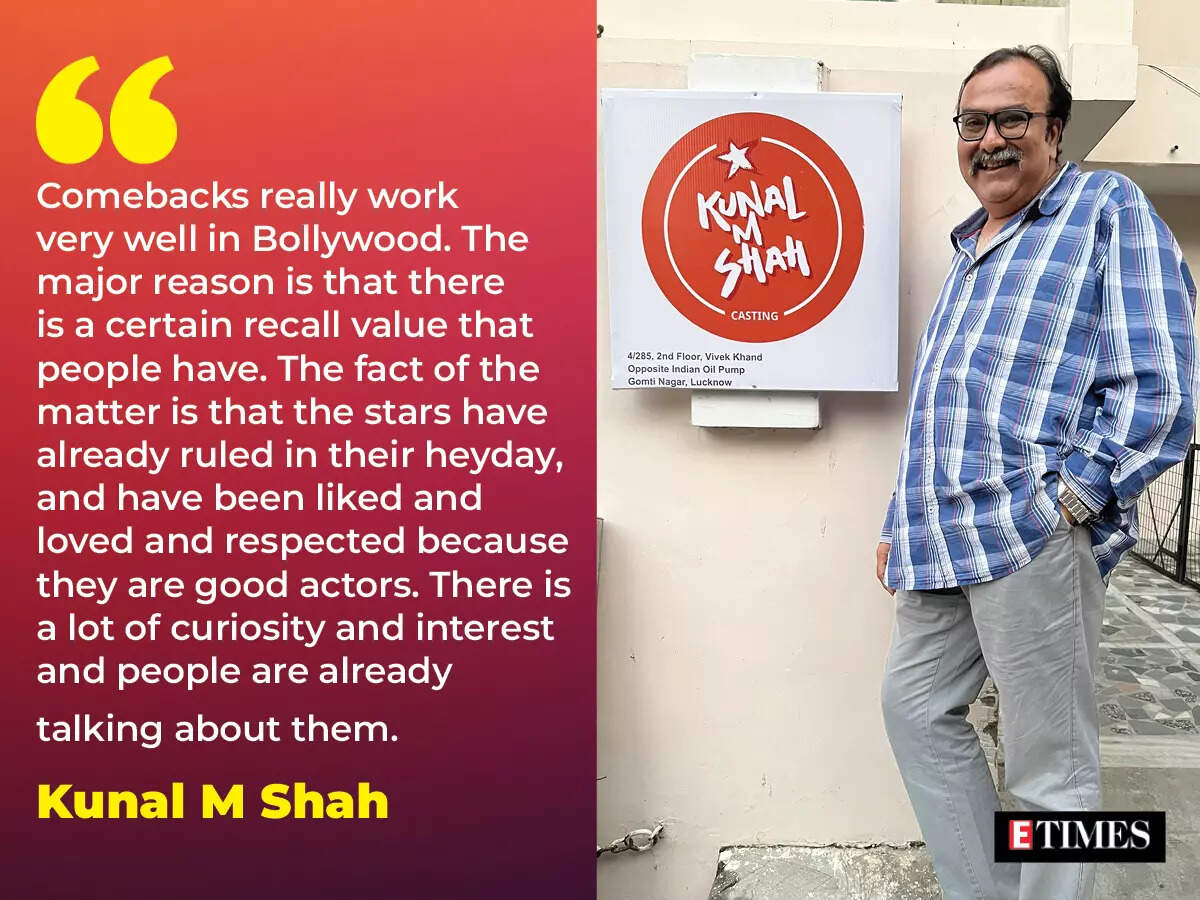 So what about these OTT platforms is attracting the yesteryear B-Town stars? These stars are seeking out roles that suit their age and OTT platforms offer them the kind of characters and roles that they seek. Given that OTT platforms have a captive audience for nearly every genre of entertainment, myriad roles are being carved out for these leading ladies. They no longer have to play second fiddle to the hero and in fact, the story revolves around their character. OTT also has been a game changer when it comes to salaries and if the series turns out to be a hit, then there is no looking back for them.
In today's #BigStory, we speak to some of the most popular yesteryear actresses, casting director and a filmmaker and find what made them leave their career behind, what makes them want to come back to the limelight, what they think about the OTT platforms giving opportunities to actresses across different age groups and more. Read on.
What made them quit showbiz?

As goes for women across various professional streams, most of these yesteryear actresses chose to leave their career behind as they started a family and wanted to dedicate their time to family and kids. As Reena Roy told us, "Pata hi nahin chala waqt kaise guzar gaya. There was a time when I was doing 2-3 shifts per day – dancing, singing, crying, laughing… I eventually had to take a break. Nahin toh main pagal ho jati. I had the responsibility of my daughter. Being a single mother, you have to take care of your daughter first. It's a full-time job."
Shantipriya had a similar story to tell. Recalling her heyday, she says, "My last project was in 1994 – Ikke Pe Ikka. I started my career with Akshay Kumar, and my last project released was with Akshay Kumar. I quit because I got married and I had my set of priorities. Nobody has ever stopped me from working after marriage. I wanted to enjoy my family life. I am and I was a good wife, a good mother and a daughter in law. And I'm proud to talk about that. Then I had kids, and then in between, I lost my husband, and they were too small for me to leave them and work. And that is a reason I took a step back to give my whole and sole to my boys because I was a single parent."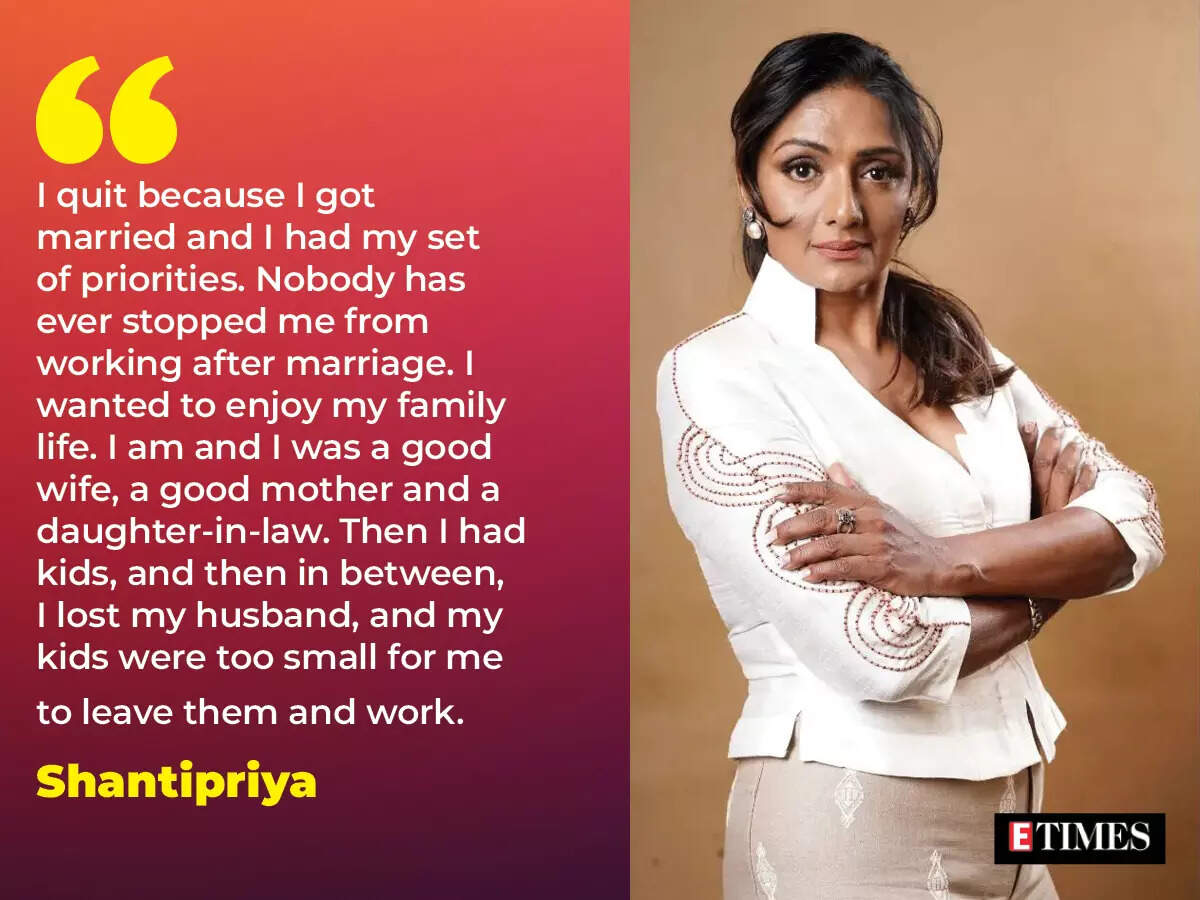 Farheen Prabhakar aka Bindiya too left showbiz at the peak of her career in 1995. "I shifted to Delhi. I got married and settled down, I had my sons in 1998 and 2003. Life was completely just about family and handling our own cosmetic manufacturing business of herbal Ayurveda skincare brand. Now that my kids are big enough (24 and 19 years old), I am free to do some selective work just to keep myself occupied. I do miss the camera and times have changed. Everything is different now," she shares.
As did the Oye Oye girl Sonam who had quit films at a very young age after she got married. "I had to leave India for personal reasons," she told ETimes.
Shilpa Shirodkar did get her second innings when she moved back to India in 2010 after 13 years. She restarted my career with television and worked non-stop for 4 years. "My husband Aparesh moved back from India to Dubai for work and Anoushka also moved there after 2 years to study. The first year, I managed but after that it was my priority to join the family and be with Anoushka as she was growing up and in a few years she was ready to go to university. I didn't want to spend that time away from her, so I decided to leave Mumbai again and my work and move to Dubai. Today Anoushka studies in Scotland and we have moved to London with Aparesh's job again. But to be honest, I still do get plenty of calls and messages for television. It's just that most of the roles offered are only the main lead's mother, where I don't have anything to do. Some roles are really amazing but then something doesn't work out."
Laila Majnu actress Ranjeeta Kaur has a different story to tell. "I left because new actresses were coming in, and pushing out the old actresses," she says. "But it's not that easy to make a comeback, unless it is a really good production house. Some actresses have come on OTT platforms, they've come and gone. So I don't want to be one of the crowd."
The OG Aashiqui girl Anu Aggarwal had become a household name after her stint in films and TV. But that did not dissuade her from leaving showbiz. "Unbelievably early in my career, just after my 3rd year in which I acted in a film directed by Mani Ratnam, and played the protagonist role in Khalnayika, it happened," she recalls. "I had faced the super success of Aashiqui and got to play amazingly powerful female leads. I was feeling a bit satiated from what the material world could bring me. I inadvertently turned a seeker, on a spiritual quest, at the start of 1994. I stopped signing films. The offer of an avant garde film opening at Cannes Film Festival came just then and that ended up being my last film routing international film festivals in 40 countries. Alongside acting, I was also involved in launching MTV India in 1993 and turning a VJ. And of course I continued to model, even if as a brand ambassador. So there was hardly any time to miss an opportunity. I signed Aashiqui in Jan 1991, it was released in August 1991. I became a household name overnight. My time from 1991-1995 is so speedy I wonder today how I managed it single handedly, in my twenties, a girl living alone!"
Filmmaker Suneel Darshan is quite happy to see the yesteryear actresses returning to the screens. "Amongst the most welcoming pieces of news in the past weeks has been about the return of the leading ladies of the Hindi film industry who I collaborated with in the first stages of my filmmaking career, like Reena Roy and Meenakshi Seshadri," he says.
Both Reena and Meenakshi had ruled the roost in those days. Reena Roy did Nagin (1975), Jaani Dushman, Aasha, Kaalicharan, Dhanwan, Naseeb, Ghulaami, Naukar Biwi Ka among others and starred opposite actors like Dharmendra, Jeetendra, Rajesh Khanna Amitabh Bachchan, Shatrughan Sinha before she quit the scene due to her marriage to Pakistani cricketer Mohsin Khan. "I had cast her in a critical role in my Sunny Deol-Karisma Kapoor starrer Ajay (1996) which was amongst her last appearances," recalls Darshan.
"Meenakshi Seshadri belonged to the next league where Sridevi, Meenakshi and Jaya Prada held sway from the early 80s until the early 90s by which time Madhuri Dixit and Juhi Chawla geared up as formidable fresh replacements. Meenakshi was pitted opposite Big B in Shahenshah, Ganga Jamuna Saraswati and Akayla, and regularly featured opposite Jackie Shroff (Hero), Anil Kapoor (Meri Jung, Vijay), Sunny Deol (Intaqaam, Ghayal, Damini & Ghaatak) and made a graceful exit to settle in marital bliss in Dallas (USA). It was so heartening to have her over a few days back when she surprisingly dropped in to catch up on her recent trip back in India and even more delightful to learn that she has been convinced to don greasepaint one more time," he adds.
Desire to come back with a bang

Once an actor, always an actor, they say. And it stands true for so many of the long lost actresses who have expressed a desire to return to the limelight. Meenakshi Seshadri had earlier told ETimes, "I want to return to movies. I want to act again. Aisa lag raha hai jaise kuch adhura reh gaya tha. With the kind of work that I have done in the past, I think I'll be able to do any role. So it would be wrong on my part to limit myself to any particular type or category."
Says Bindu, "If a good role comes my way, I will definitely do it even if it is on OTT. These days people are glued to their OTT screens as it offers a variety of options. There are such good stories and even reality shows. Even if the role is small, it has to leave a mark, only then will I choose to do it. It has to be a meaty role that can satisfy the artist in me. Unless I am satisfied with the role, how will I satisfy the audience?"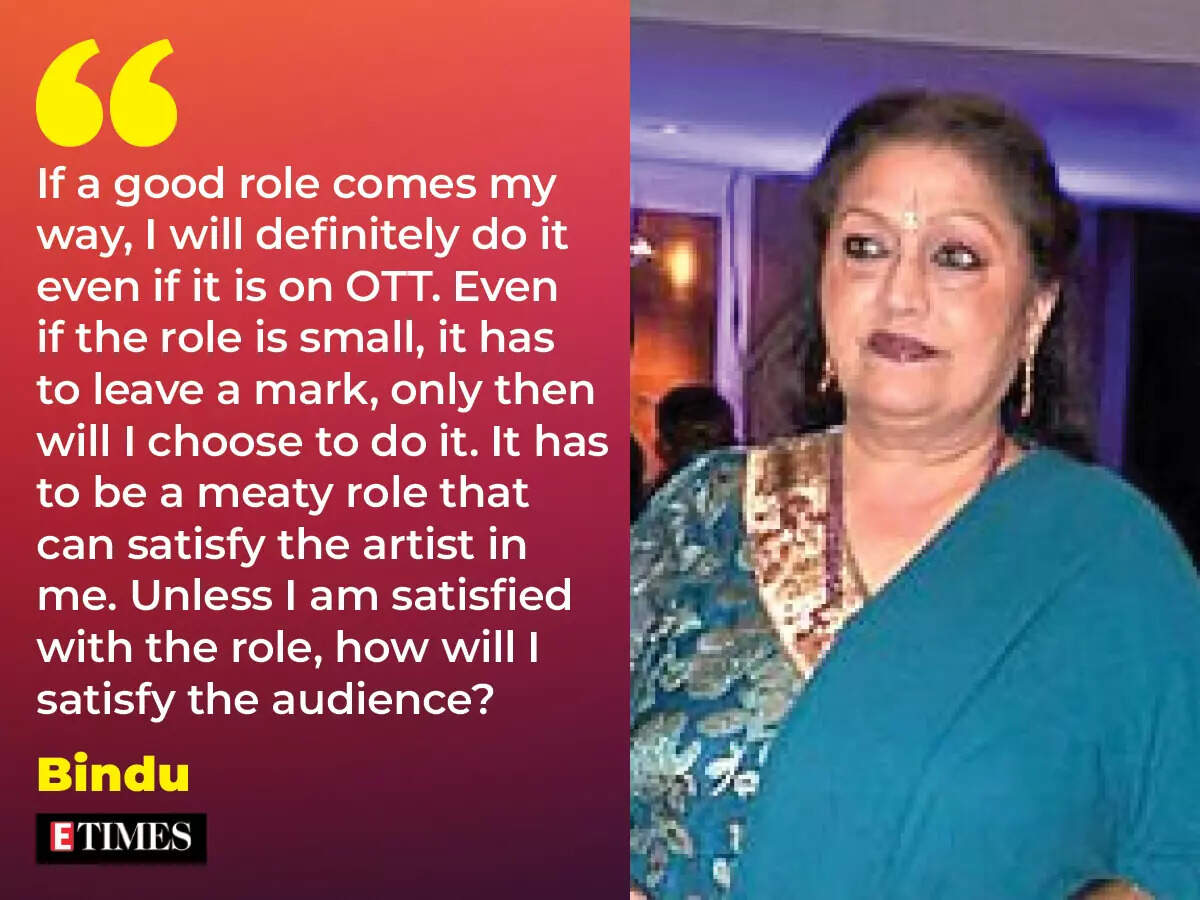 Farheen has two projects in consideration. "I am taking my time to select some good work," she says. "There is a web series for Amazon Prime and another one which I cannot talk about right now. The 90s was a golden period for us. And now to be connected with the same field makes me feel very happy and emotional. For 24 years, there was no 'lights, camera, action!' I missed it, but there are no regrets as life has given me much more than I wanted."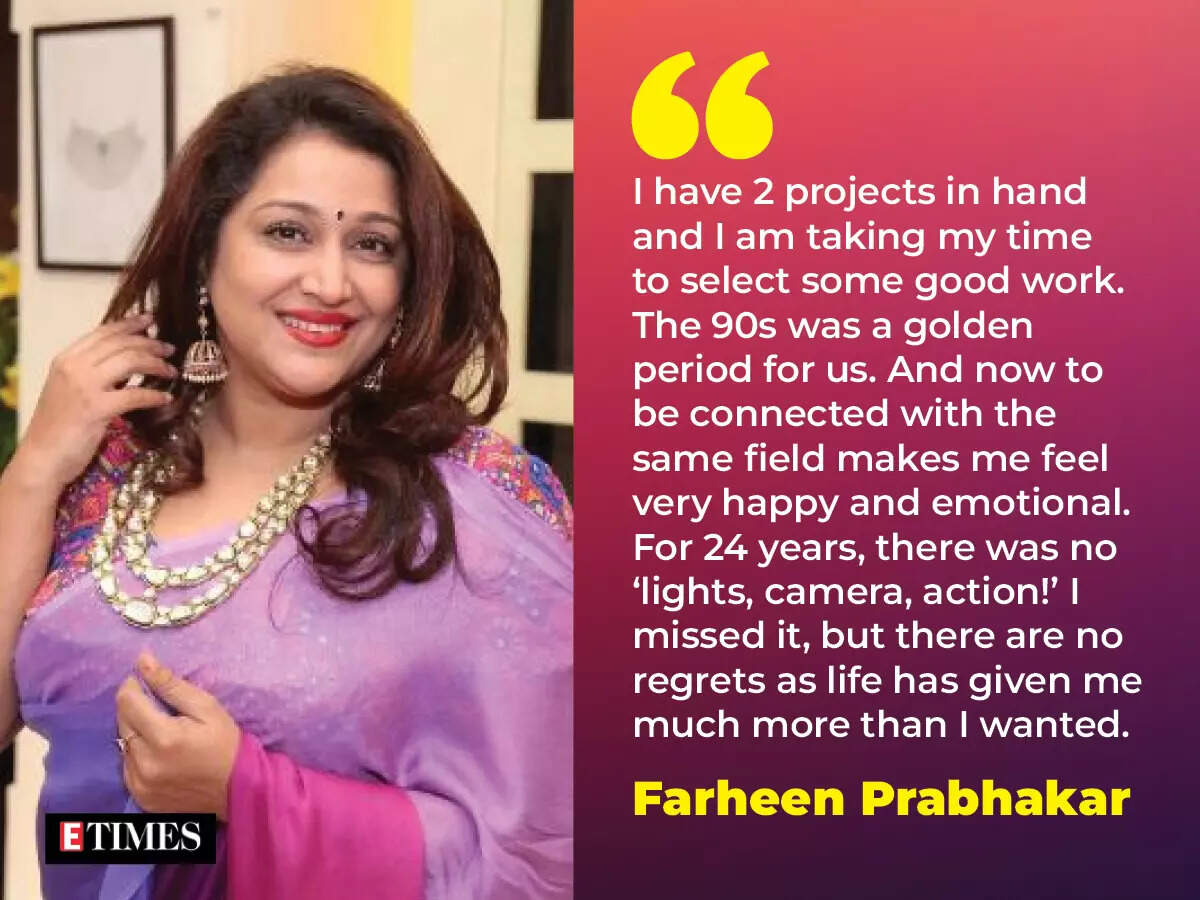 Shilpa Shirodkar too would love to work in showbiz again. "There is such amazing content coming in films and OTT for women my age. It's really lovely to see it. I don't know anything better than acting, I've grown up doing that. So if i get an amazing opportunity it would be absolutely amazing to start work again. At the moment, I've not got any offer, so I am waiting," she quips.
Reena Roy has resolved in the new year that she will be working on OTT shows and films. "I am getting offers," she shares. "I would like to work in regional films too from Punjabi to Tamil, Telugu, I want to work on everything. I want to do something along the lines of Baghban and Mother India. These days, I watch more South films that are dubbed in Hindi. Their action and dance are unbelievable. I enjoy those films."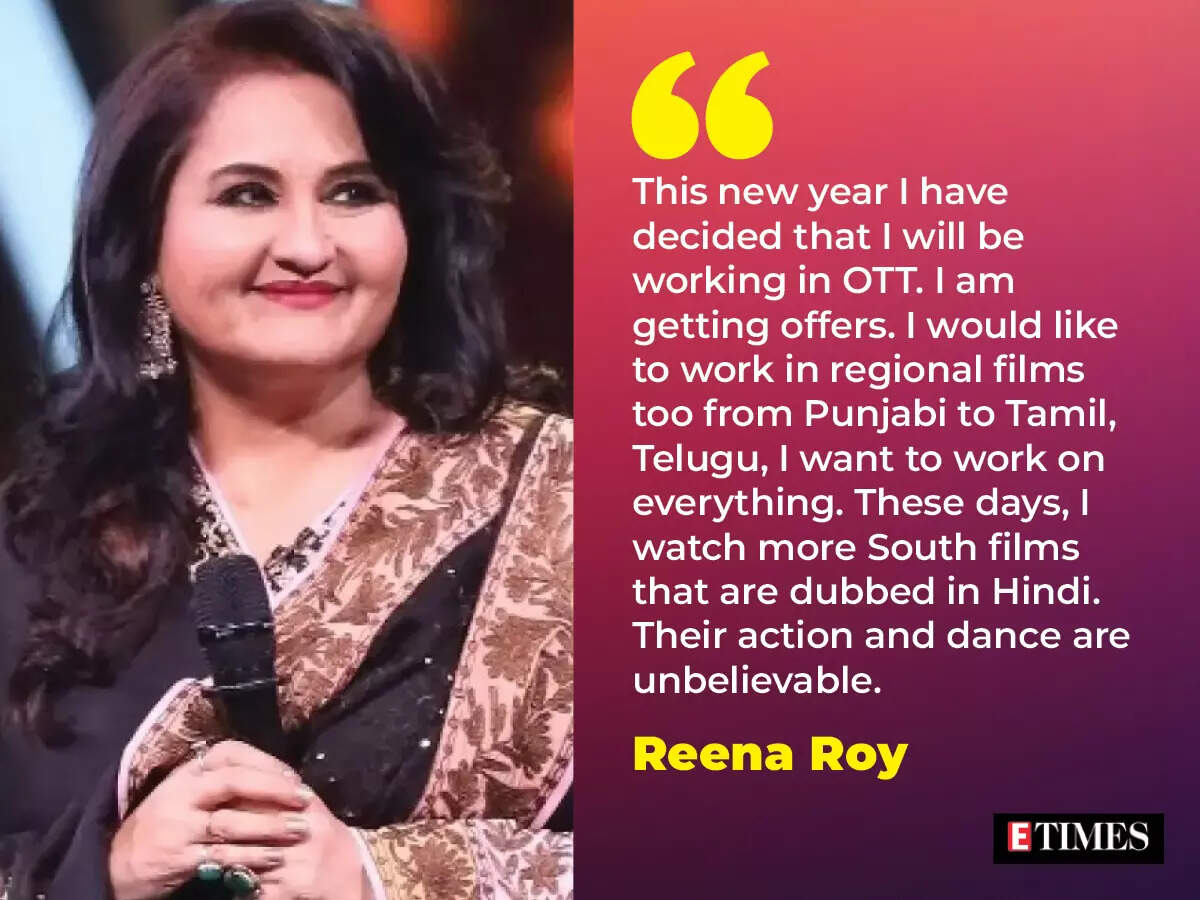 For Shantipriya, it's coming back exactly where she belongs. "I am very happy to come back to the family where I belong. The industry has changed a lot though. There are few things that people still don't know about me. The first question that people ask is if I stay in Mumbai. This is one of the biggest questions in the film industry and everywhere. I would like to clarify that I am very much a Mumbai ki ladki. And the second thing they ask is abhi kaisi dikhti hogi. For them I'm very active on Instagram. I am having a couple of meetings with a couple of casting people and production houses and let's see how it goes," she says.
Sonam too is keen to meet new people now and work with them. "I feel I still have a lot to learn. And, I am willing to learn. I want to work with Anurag Kashyap, Neeraj Pandey, Vishal Bhardwaj. I love their style of filmmaking. And I want to do web shows; I love OTT; I consume a lot of content in OTT space. I am a mother to a 29-year old son in real life. So why would I shy away from playing a mother on screen? The role has to be good, though. Nowadays, a mother's role is not the usual one in a saree and sindoor, she even wears hot pants and smokes a cigarette," she had said.
Kunal M Shah admittedly looks for an opportunity to get an actor back somewhere whenever he gets a cast list. "It also helps in promotion like a brief role done by Kamal Sadanah with Kajol. They both had made their debut together in Bekhudi and now there was a scene together in Salaam Venky," he says. "Today the OTT audience is mostly youth, who probably might not have seen a Karsima Kapoor or Urmila Matondkar film or Shantipriya film. It's a great thing and I'm really excited to be a part of this process of getting these actors back on the screen."
OTT paving the way

In the recent past, OTT has revived the careers of quite a few stars from the 80s and 90s. From Poonam Dhillon to Sushmita Sen, Raveena Tandon to Madhuri Dixit and even Somy Ali, many yesteryear actresses have got a new lease of life with new formats of series and films made for the digital platforms.
"Sridevi's return with English Vinglish and Mom as well as Madhuri Dixit's appearances were lapped up and lauded by their senior fans getting them huge pay-packets in their re-runs. Zeenat Aman (remember her stunning appearance in Raj Kapoor's Satyam Shivam Sundaram and Dev Anand's Hare Rama Hare Krishna) has been making appearances in some missable features but a good role and she'll surely carry it off too!" notes Suneel Darshan.
Says Farheen Prabhakar, "It is good to see so many actresses making a comeback and looking their best at this age also. It's an inspiration actually and I am looking forward to doing some good work with respect and dignity."
Shilpa Shirodkar recalls meeting a leading agency looking for roles on OTT and films. 'Unfortunately, we don't take people your age,' she was told. "This happened about 7-8 years ago. And look today, all my colleagues my age are kicking ass and that makes me so proud and happy. They have proved that age is just a number! There is work for everyone," she says.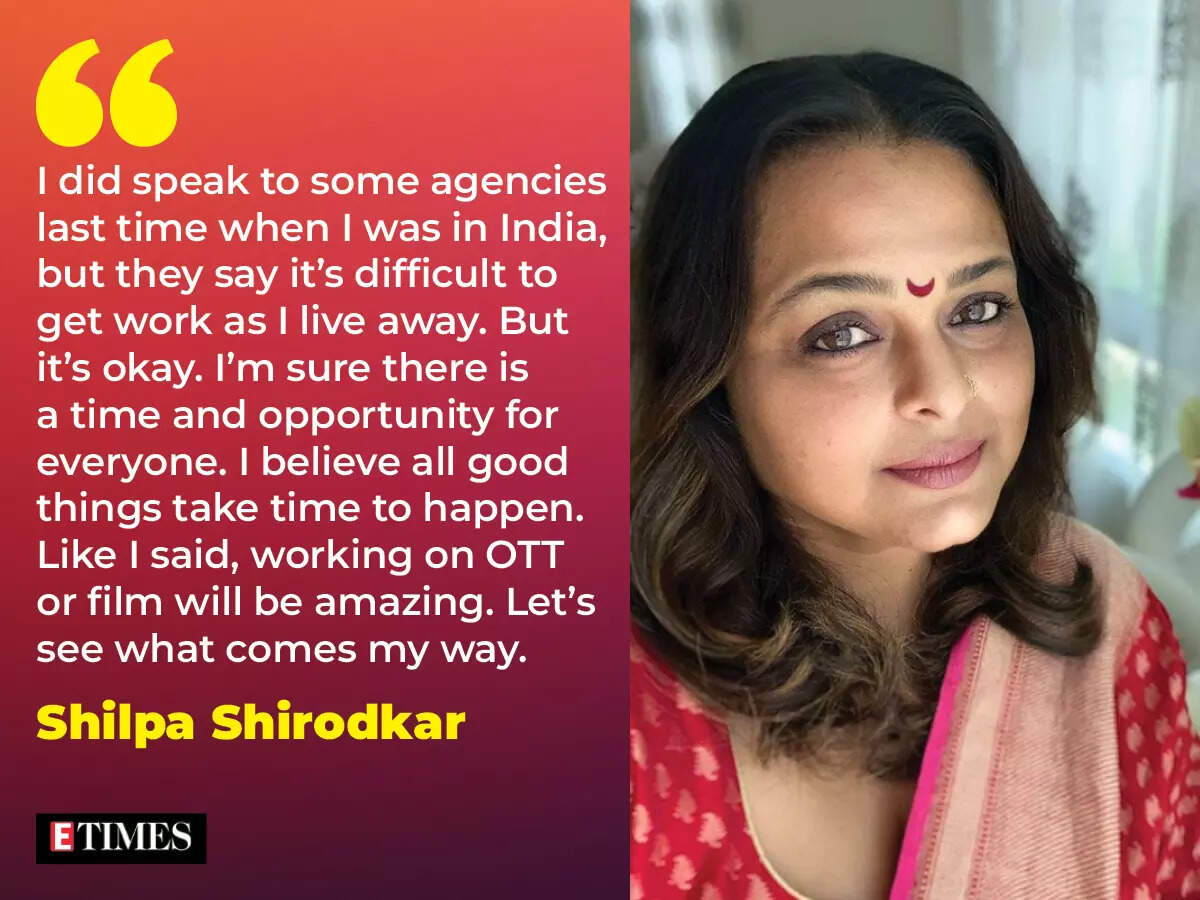 Though she has never actively considered making a comeback, Ranjeeta, she wouldn't mind taking up a role that is a good, meaty one. "I don't mind coming back to showbiz. Someone did offer me some role in between but then I had to leave for the US. So I couldn't do that. After that nobody got in touch with me. Some actresses like Sarika and Neena Gupta have come back and are doing good work. And if it makes them feel good rather than sitting at home, and they still have the talent, why not?" she says.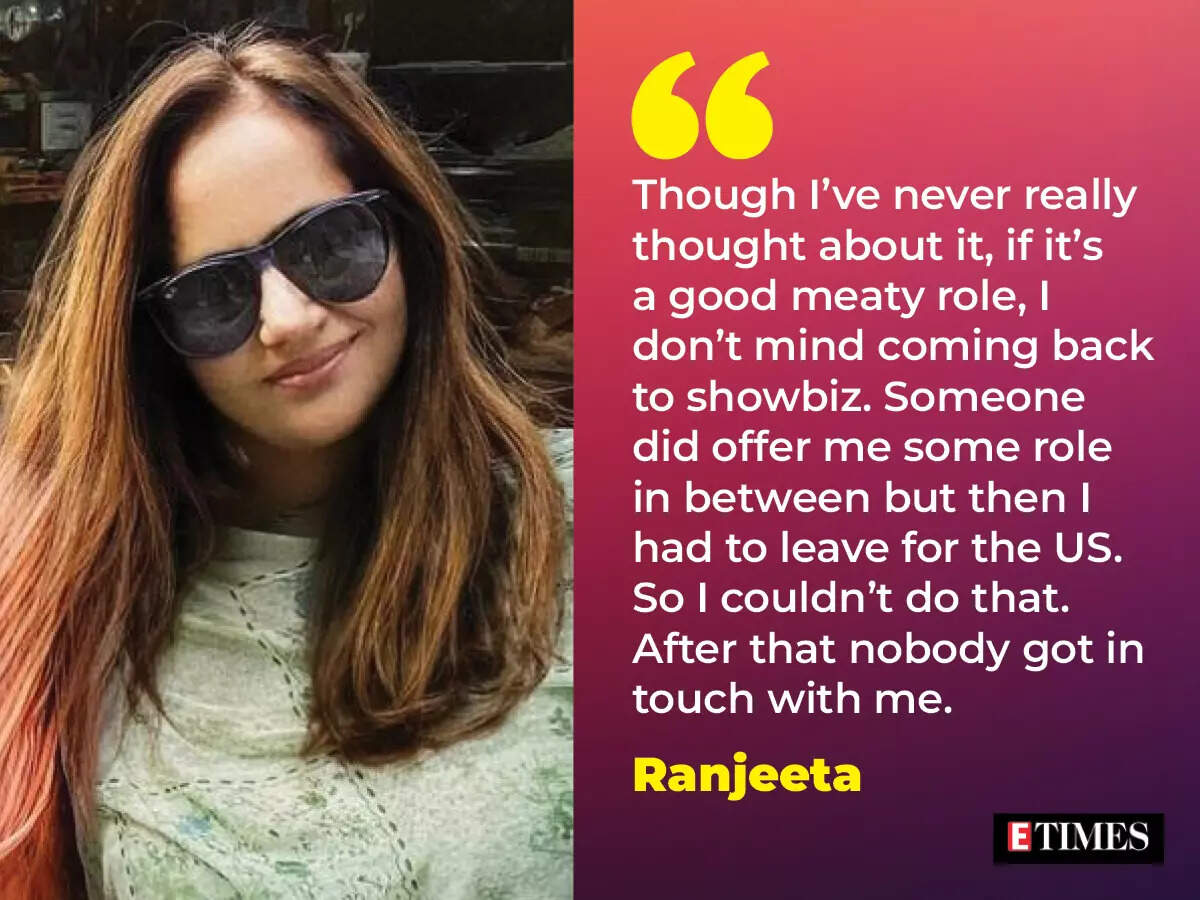 Kunal M Shah recalls casting Shantipriya in a very small but very important role in Dharavi Bank. "People loved her!" he exclaims. "The kind of feedback that she's got and fans are reaching out to her. Suddenly her songs are being played everywhere. So it really worked for the character. I've just finished a show with Karisma Kapoor called Brown directed by Abhinay Deo, and I've also done a show with Urmila Matondkar called Tiwari which is directed by Saurabh Verma. So there is a lot of curiosity, there's a lot of interest in the shows and people are already talking a lot about them. I think half the battle is won. They have both been huge superstars and then some done brilliant work in their prime."
As Anu Aggarwal sums it up, "I would say I am up again rather than coming back as I was laying low. I think when you are a part of showbiz there is hardly any going away or leaving it. Though for me it is different than most — I nearly died and came back, a miracle. And I have all in showbiz, my fans to thank for their well wishes for their prayers. Frankly, my life has always been abnormal throughout. So what course it will follow now in showbiz, is unpredictable. OTT today has an interesting layout but then 'expect the unexpected' is an Aashiqui promotional poster with my face on it. I think that pretty much stands true for me today as well."
#Whats #happening #yesteryear #heroines #OTT #medium #comeback #BigStory