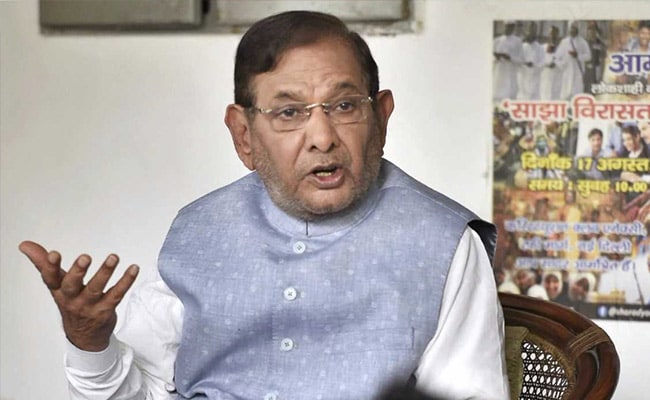 New Delhi:
Congress president Mallikarjun Kharge on Thursday condoled the demise of socialist leader and former Union minister Sharad Yadav and said he strengthened the politics of quality.
The Congress also said Sharad Yadav's demise is an irreparable loss to Indian politics.
Former party chief Rahul Gandhi said Sharad Yadav was a man of humble nature and he has learnt a lot from him.
Sharad Yadav died on Thursday at a private hospital in Gurugram, family sources said. He was 75. He is survived by his wife, a daughter and a son.
"Sharad Yadav ji was a person of humble nature along with being a leader of socialism. I have learnt a lot from him. I express my deepest condolences to his bereaved family members. His contribution to the country will always be remembered," Rahul Gandhi said in a tweet in Hindi.
The veteran socialist leader had been suffering from kidney-related issues for a long time and regularly underwent dialysis.
Mr Kharge said in a tweet in Hindi said, "Am saddened by the demise of Sharad Yadav, former president of JDU and senior leader of the socialist stream of the country. Serving the country as a former Union minister and an outstanding Parliamentarian for decades, he strengthened the politics of equality".
The Congress chief also sent his deepest condolences to his family and friends.
The Congress also tweeted about Sharad Yadav's demise and expressed condolences to his family.
"The demise of former JDU president, former Union minister and senior socialist leader Sharad Yadav is an irreparable loss to Indian politics," the party said.  AICC general secretary KC Venugopal said, "Shocked at the demise of Sharad Yadav ji. He was a staunch socialist and committed to the idea of an inclusive India. My sincere condolences to his family. Om Shanti."
(Except for the headline, this story has not been edited by NDTV staff and is published from a syndicated feed.)
Featured Video Of The Day
Court Can't Dilute Parliament's Sovereignty: Veep Amid Appointments Row
#Sharad #Yadavs #Demise #Irreparable #Loss #Indian #Politics #Congress