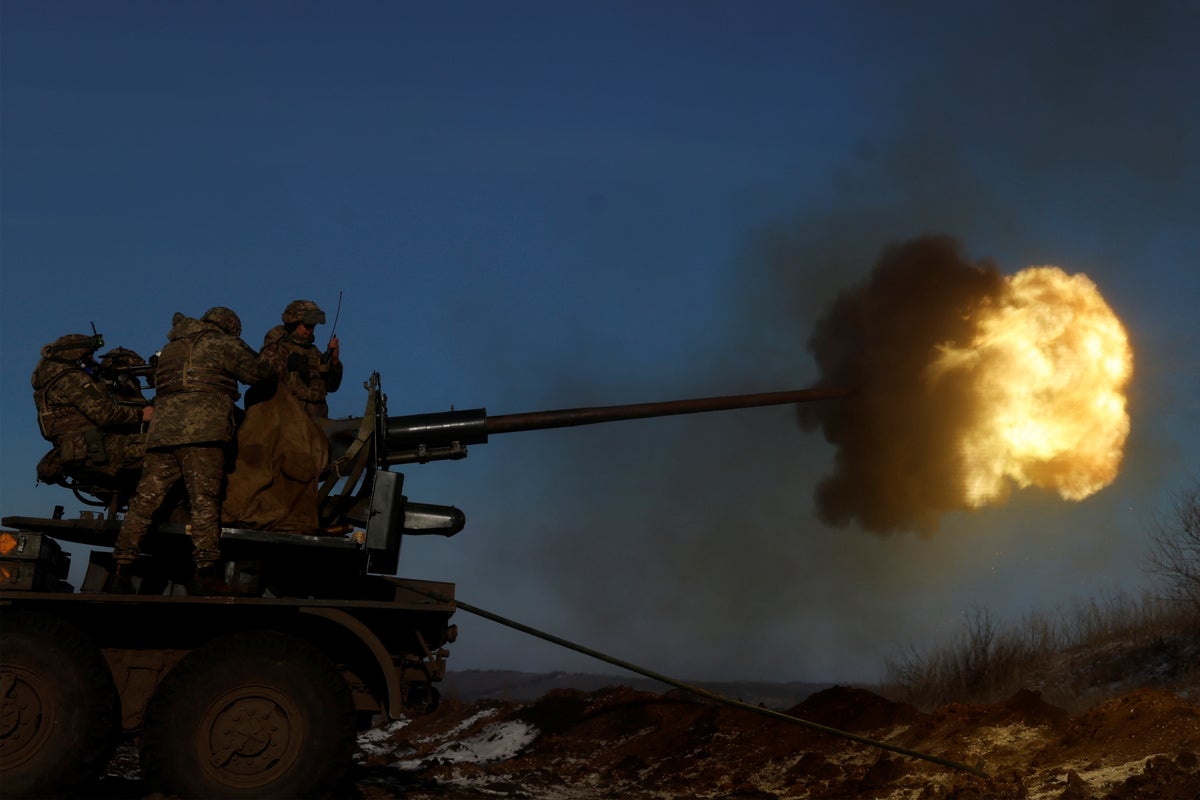 Russia's forces have stepped up their assault around the besieged eastern Ukrainian city of Bakhmut and have probably captured the nearby town of Soledar, according to Ukrainian and UK officials, but are likely to be suffering significant losses in the process.
However, unlike Ukraine, Moscow cannot call upon the support of Western nations, the latest example of which involves training in the US to use the Patriot missile system that Washington has promised.
Serhiy Cherevaty, spokesperson for Ukraine's eastern forces, said the Russians were deploying their best Wagner mercenary fighters at Soledar, while the UK's Ministry of Defence said in a statement that the mercenary group, run by an ally of Vladimir Putin, Yevgeny Prigozhin, was likely now in control of the town. If the gain is confirmed, it will be the first significant one for Moscow since late summer.
Intense fighting was also said to be taking place in Bakhmut, also in the Donetsk region, with the battle for control of the city having already gone on for months. Ukraine's deputy defence minister, Hanna Malyar, said Russia had thrown "a large number of storm groups" into the fight for the city. "The enemy is advancing literally on the bodies of their own soldiers and is massively using artillery, rocket launchers and mortars, hitting their own troops," she said.
Taking Bakhmut would disrupt Ukraine's supply lines and open a route for Russian forces to press on toward Kramatorsk and Sloviansk. Pavlo Kyrylenko, the Donetsk region's Kyiv-appointed governor, on Tuesday described the Russian attacks on Soledar and Bakhmut as relentless."The Russian army is reducing Ukrainian cities to rubble using all kinds of weapons in their scorched-earth tactics," Mr Kyrylenko said.
Ukrainian troops are set to start training on the Patriot missile system at Fort Sill in Oklahoma, US officials have said, potentially as soon as later this month according to reports. Ukrainian president Volodymyr Zelensky said during a trip to Washington in December that the battery would make a significant difference in bolstering Kyiv's defences against Russia's invasion. Meanwhile, In a symbol of Kyiv's battlefield successes of recent months, German foreign minister Annalena Baerbock visited Kharkiv. The eastern city, Ukraine's second largest, was nearly surrounded by Russian forces and under constant bombardment until Ukraine drove the Russians from its ramparts in a breakthrough in September that shifted the war's momentum.
"This city is a symbol of the absolute insanity of the Russian war of aggression in Ukraine and of the endless suffering that people, especially here in the east of the country, are confronted with every day," Ms Baerbock said. She promised aid for Ukraine and support in its bid to join the EU.
Moscow now has the task of keeping up with this supply of weapons, with Nato's secretary general, Jens Stoltenberg, saying in Brussels on Tuesday that the military alliance must further strengthen its support for Ukraine. In a sign that Moscow is under pressure, US officials have told CNN that Russia's artillery fire is down dramatically from its wartime high, in some places by as much as 75 per cent. The officials said that may be down to a lack of supply, leading to round rationing, or a larger-scale reassessment of tactics in the face of stiff Ukrainian resistance.
Russian defence minister Shoigu said on Tuesday that his military would use its experience in Ukraine to improve combat training and troops will be given better tactical gear and equipment.
The country's state-owned TASS news agency also reported that Colonel-General Alexander Lapin has been appointed chief of staff of the country's ground forces. His promotion was widely reported across Russian media but neither confirmed nor denied by the Kremlin. Colonel-General Lapin, previously commander of Russia's central military district, faced harsh criticism within Russian military circles last year after Russian forces were driven out of the city of Lyman in eastern Ukraine, a key logistics hub.
The deputy head of Russia's Security Council, Dmitry Medvedev, also warned that officials within Russia who fail to meet production deadlines for weapons and other supplies could face criminal charges. President Putin appointed Mr Medvedev last month to head a new commission tasked with trying to solve the military's supply problems.
It is clear that the Kremlin does not appreciate Western nations' pledges to Ukraine. Russian Security Council secretary Nikolai Patrushev – an ally of Mr Putin – said in an interview on Tuesday that the West aimed to "pull Russia apart, and eventually just erase it from the political map of the world".
In an address late on Monday, Mr Zelensky acknowledged that the situation in Soledar was "difficult", but said Ukrainian defenders had bought more time by holding on, and Kyiv would eventually drive Russians out of the entire eastern Donbas industrial region.
"And what did Russia want to gain there? Everything is completely destroyed, there is almost no life left. And thousands of their people were lost: the whole land near Soledar is covered with the corpses of the occupiers and scars from the strikes," Mr Zelensky said. "This is what madness looks like."
Ukraine's president has repeatedly called for more weaponry and equipment support from the West. On Tuesday, a spokesperson for UK prime minister Rishi Sunak said that a final decision was still to be made on sending tanks to Ukraine.
Reuters and Associated Press contributed to this report
#Russia #steps #assault #eastern #Ukraine #provide #weapons #training #Kyivs #troops