The amount of football being played in the Premier League has hit an all-time low.
The league considered the world's best top-flight competition is seeing more time lost to slow restarts, delaying tactics and time-consuming injuries than ever, and officials are struggling to keep up with time-wasting.
New Premier League referees chief Howard Webb believes it is the most discussed issue in the game outside of VAR – but is reluctant to follow the lead of last month's World Cup to address what has become a long-term issue.
At an average Premier League game this season, the ball has been in play for less than 56 per cent of the match. That figure has been falling consistently over the past 10 years and with 2022/23 the lowest on record.
Frustrations had set in even before that slide, to the point then-Manchester United manager Sir Alex Ferguson suggested taking timekeeping out of the hands of referees as far back as 2012.
Although he was protecting his own side's interests, the sentiment was and remains widely shared. A number of managers and executives have already complained to the media this season, as well as to the Premier League referees' body (PGMOL).
Sky Sports analysis has found that in 23 games this season, Premier League fans have sat through matches where the ball was out of play for more than half of the playing time.
Crystal Palace vs Leeds in October had the least football played, with the ball in play for less than 44 minutes of the almost 101-minute match.
In the first half of that game, a Palace goal triggered a VAR review lasting almost two minutes, and later a clash of heads led to a stoppage of five minutes and 45 seconds. Only five minutes were added on by the referee before half-time.
Leeds managing director Angus Kinnear called the match "an unacceptable spread for both players and spectators" and said he would raise the issue with the PGMOL.
Three months later, nothing has changed. In Wolves vs Manchester United on New Year's Eve, three second-half injury stoppages amounted to more than seven minutes, with another minute's delay for a VAR check on a disallowed goal. Once again, five minutes were added.
The World Cup has shown how things can be improved. FIFA's referees chief Pierluigi Collina's initiative to detail injury-time more accurately led to the average match during last month's tournament exceeding 101 minutes.
"People want to watch football, more football," was his rationale. And it worked. Injury-time fell by more than a quarter as teams gave up on time-wasting, with the ball in play almost five per cent more by the end of the tournament.
The average game, excluding extra-time, featured more than 58 minutes of football. That is more than any of Europe's top-five leagues this season.
Jamie Carragher was among the admirers of Collina's thinking. "[I'm] enjoying the amount of time that is being added on at the World Cup," he tweeted. "There is too much time-wasting in football!"
PGMOL head Webb has poured cold water on the Premier League drawing on what he has called the "unusual" methods used in Qatar and has insisted referees already add on a "credible" amount of time.
"I'm a big advocate of ensuring that we empower referees to take action against players who delay restarts, and those who immediately stand in front of free-kicks to stop them from being taken," he told Sky Sports before the Premier League's restart on Boxing Day.
But as recently as last week's draw between Arsenal and Newcastle there was more than 10 minutes of stoppages due to injuries, substitutions and cautions for time-wasting alone after half-time. This was another occasion when five minutes of injury time were added.
Gunners boss Mikel Arteta was visibly angry with the decision, while colleagues Jesse Marsch and Jurgen Klopp have also hit out at what they have described as disruptive tactics going unpunished by referees.
"This is an entertainment business and I wish the referee had handled it better," Marsch told Sky Sports after their match against Everton only five games into the season. "The referee had the chance to affect the game and did not take advantage of that."
Officials have tried some new approaches. Forty yellow cards have been handed out for time-wasting this season, a figure which is on course to reach a Premier League high by some margin, but it has made little difference.
The return of the multi-ball system at the start of 2022/23 was also meant to help restart play quicker, and has been unable to arrest the decline either.
Real change may come from above Webb and the PGMOL. IFAB, the international body which acts as football's law maker, has discussed the problems around playing time already this season and is due to address it again when it meets next week.
Time-wasting is not an issue which is confined to England. In fact, three of Europe's top-five leagues see less of the ball in play than the Premier League and in the Scottish Premiership less than 51 minutes of football is played during an average game – four minutes less than the Premier League.
IFAB will review the success of the more stringent approach to stoppages from the World Cup, and address how existing laws of the game – such as a maximum of six seconds for goalkeepers to hold on to the ball – can be more consistently applied.
It will also discuss whether Ferguson's long-held wish, to add an external timekeeper to the game, is a realistic possibility.
Sky Sports has observed repeated abuse of the six-second rule by goalkeepers across the most stoppage-affected Premier League matches this season, disrupting the flow of the game even though the ball remains in play.
In one game, the match referee made no intervention despite the same goalkeeper holding onto the ball for more than 15 seconds on six separate occasions.
The push to take the responsibility of added time out of referees' hands has been a long-term campaign of former Arsenal chairman David Dein, who has spoken to both the PGMOL and FIFA about his proposals and holds significant sway in his role as an FA and Premier League ambassador.
"I've been championing it because the referee is the busiest man on the pitch," he told TalkSPORT earlier this month. "If you ask any referee, they would tell you they don't need and don't want to keep the time anymore. They are managing a game of football. They have got too much to do.
"When we are talking about pure time, I'm not suggesting for one minute that it should be when time is wasted at a throw-in or a corner kick. But there are normally four or five areas of the game where time is wasted.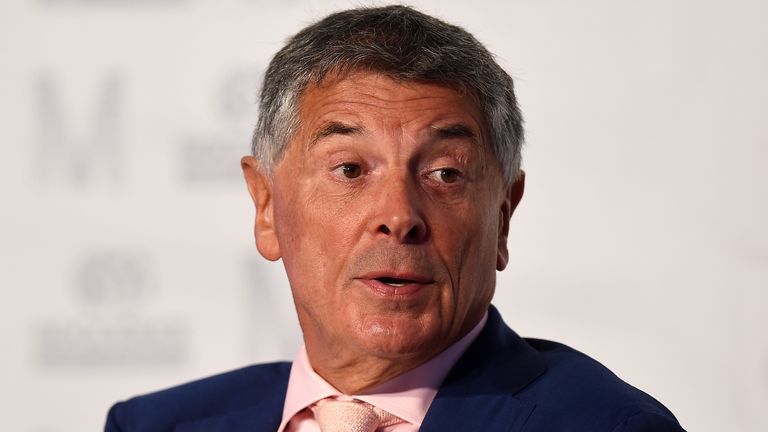 If you ask any referee, they would tell you they don't need and don't want to keep the time anymore. They are managing a game of football. They have got too much to do.
"Goal celebrations, injuries, substitutions, VAR checks and penalties. Now, if you add all those up, one-and-a-half minutes here, a minute there and another minute there, it adds up to eight, nine or 10 minutes during the course of a game.
"I was at the World Cup and spoke to FIFA officials. I made presentations to them and slowly but surely, I think we'll get it on the agenda."
The World Cup has helped to progress that case faster than expected to bring the subject of time-wasting to the table, and shown how effectively it can be handled with a consistent approach.
But when Premier League fans will start to see more of the football they have paid to watch, without external intervention from IFAB, remains to be seen.
Sky Sports contacted the Premier League and PGMOL for comment.
#Premier #League #timewasting #Referees #failing #clamp #stoppages #IFAB #set #discuss #solutions #Football #News