Pep Guardiola believes Manchester United's first goal against his City side should have been ruled out for an offside by Marcus Rashford, as the forward was "intervening" in the move that saw the derby turn on its head.
City saw their 1-0 lead at Old Trafford overturned when Bruno Fernandes curled home before Rashford netted the winning goal three minutes later – but the first goal was clouded in controversy.
Casemiro played a ball forward towards Rashford – who was standing in an offside position and tried to get onto the pass. The United forward then realised Fernandes – in an onside position – was better placed and the midfielder ran on to score.
Rashford did not touch any player in the move, but did make a clear attempt to get onto the end of the pass.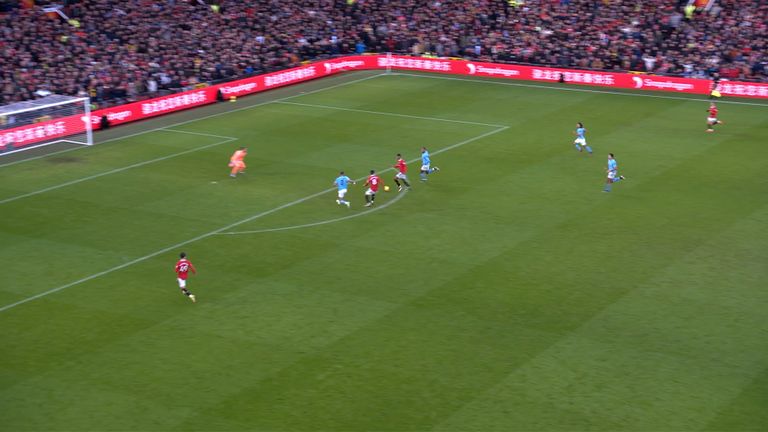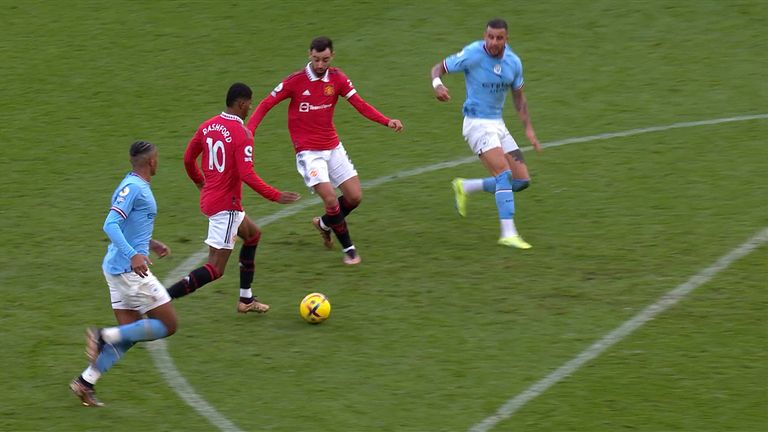 Guardiola believes Rashford was affecting play by interfering with City defender Manuel Akanji's defensive run, which would make him offside according to the rulebook.
"Manu Akanji stops the line [of running]," said Guardiola. "If he knows that he is going to go with Rashford, he will go back with him and do the duel one versus one and he sees what happens. But he [Rashford] intervenes in the action.
"But the referee decided he did not intervene in this stadium. It's ok, what are we going to do? Are we going to make a complaint? No. Congratulations for that. Sometimes it happens in our [favour]. Sometimes [it's like] that.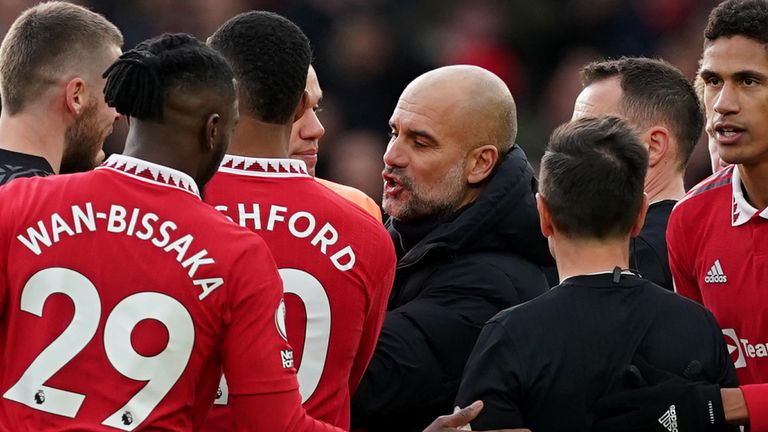 "The decision is they didn't believe he [impacted the play]. Rashford was intervening in this action when this happened. It's Old Trafford. We have to play much better. Like it's Anfield. We have to do better.
"The rule is the rule, the interpretation belongs to the referee. I say Rashford is offside, Bruno is not. The situation is for the referees."
Guardiola gave the example that an offside player standing in the line of the goalkeeper's vision from a team-mate's shot is normally penalised – and that this was a similar scenario.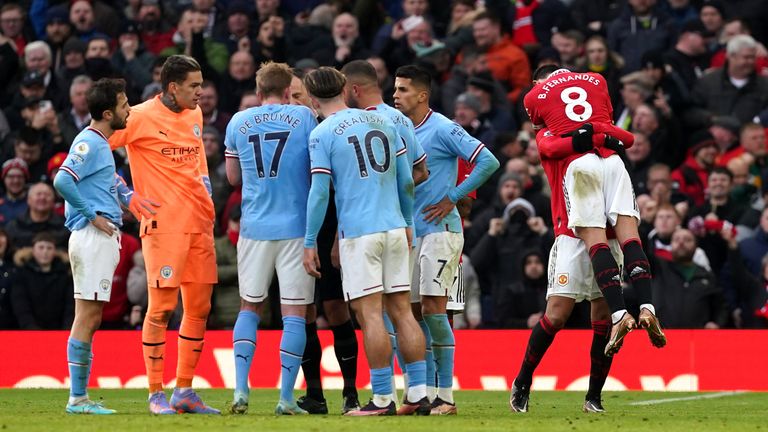 The City manager was, however, more focused on how his side could have defended better in the minutes after Fernandes' equaliser. Rashford tapped home from Alejandro Garnacho's cross just three minutes and 46 seconds after United's first goal.
"Rashford is offside. Bruno Fernandes is not offside. The question is intervening or not intervening in the action," said Guardiola. "When one player shoots and [another] player is in front of the keeper and does not touch the ball, it's disallowed all the time.
"The decision is of course [belonging to] the referees and VAR. We follow the action, we don't make an offside [appeal], we follow the action and after the action, it's either Ederson intervenes [with a save] or not.
"What can we improve? After we concede the goal, in the next few minutes we cannot concede the next one. We allowed them to score. Come, come, come. This is the most important detail we have to improve for the future."
What is the offside rule in this case?
A player in an offside position at the moment the ball is played or touched by a team-mate is only penalised on becoming involved in active play by:
interfering with play by playing or touching a ball passed or touched by a team-mate or
interfering with an opponent by:

preventing an opponent from playing or being able to play the ball by clearly obstructing the opponent's line of vision or
challenging an opponent for the ball or
clearly attempting to play a ball which is close when this action impacts on an opponent or
making an obvious action which clearly impacts on the ability of an opponent to play the ball
'We need to find Haaland more – United defended well'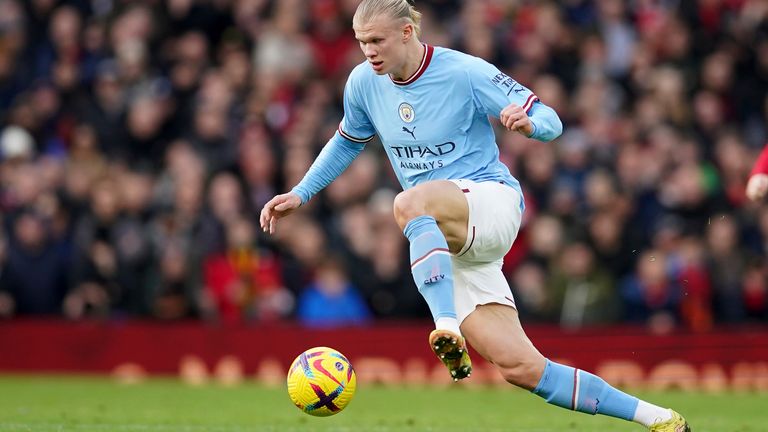 Guardiola also addressed why City were not able to make full use of star striker Erling Haaland on Saturday lunchtime, with the Norwegian now on a mini-drought of two Premier League starts and one Carabao Cup substitute appearance without a goal.
Haaland played a deeper role than normal at Old Trafford in a bid to draw Raphael Varane and Luke Shaw out of United's defensive block. But Guardiola praised how well City's opponents defended on Saturday.
"Maybe we need to find him a little bit more in final third," said Guardiola of Haaland. "We tried to drop him knowing Shaw and Varane would follow him but it's not easy to create chances.
"United in the last games only conceded one goal here in the Premier League. We had one or two other ones with the last pass, or last cross for the little bit moments. I gave credit to United for the quality they have.
"We behaved good, we behaved how we have been in the last six years and the many times we came here together. Monopolise the ball and they just defend, defend and wait for the right action."
#Pep #Guardiola #Manchester #City #manager #believes #Marcus #Rashford #offside #Man #Utds #goal #derby #win #Football #News