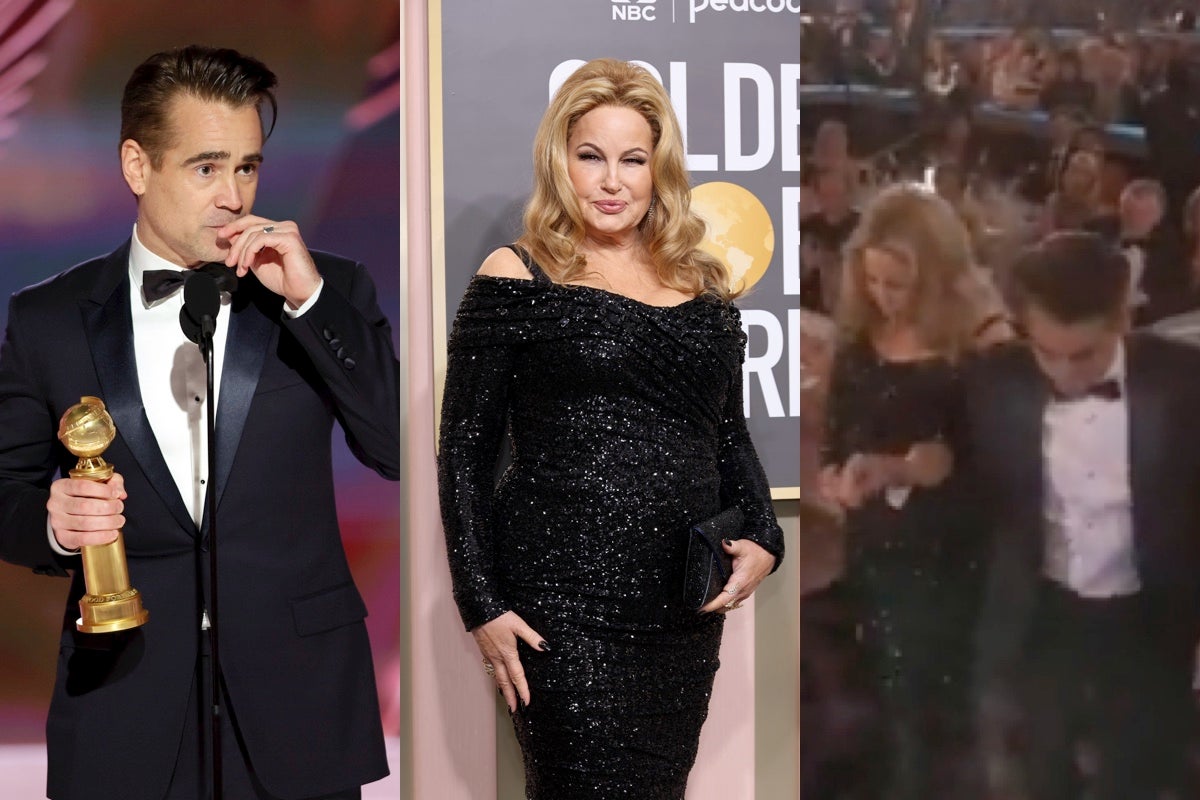 Colin Farrell has earned praise for his chivalry after he was captured jumping out of his seat to offer an arm to Jennifer Coolidge as she made her way to the Golden Globes stage to accept her award.
On Tuesday, the Golden Globes returned after a hiatus last year and offered a number of notable moments including host Jerrod Carmichael's shocking Scientology joke and Rihanna's fashionably late arrival.
The awards show also included a heartwarming moment between two of its winners, Jennifer Coolidge and Colin Farrell.
The moment took place shortly after Coolidge, who wore a black sequin Dolce & Gabbana gown for the occasion, won the Globe for Best Performance by an Actress in a Supporting Role in a Limited Series.
As she made her way to the stage, Farrell rose quickly from his seat at a nearby table to offer his arm to help Coolidge ascend the stairs.
The gesture appeared to be met with gratitude from The White Lotus star, who seemed to tell the The Banshees of Inisherin star: "Oh wow, thank you," as she accepted his proffered arm.
On Twitter, where videos of the moment have been viewed more than 60,000 times, fans celebrated the sweet exchange.
"A perfect gentleman for our amazing queen," one person tweeted, while another said: "Thank you Colin Farrell! Jennifer Coolidge is a national treasure and must be protected at all times!"
"When Colin Farrell helped walk Jennifer Coolidge up onto the stage, I saw the romantic comedy we've all been waiting for," someone else said.
Some fans said the gesture was especially charming considering Farrell offered the help to Coolidge despite the presence of an individual nearby, whose sole job was to help winners up to the stage.
"Colin Farrell literally stealing a man's job to help Jennifer Coolidge, our queen," one person pointed out, while another joked: "The fact that Colin Farrel pushed the person out of the way so he could escort Jennifer Coolidge up the steps, we truly love that for her."
Viewers then noticed that Farrell, who won the Golden Globe for Best Actor in a Musical or Comedy, seemed riveted as Coolidge gave her acceptance speech for the award.
"We are all Colin Farrell listening to Jennifer Coolidge," one person joked.
"I didn't think I could adore him anymore… and how he smiled and gazed at her from his seat when she spoke!" someone else wrote.
The sweet moment was just one of many starring Coolidge at this year's Golden Globes, as the actor also earned praise for her amusing monologue while presenting the award for Best Performance by an Actor in a Supporting Role in a Musical-Comedy or Drama Television Series.
Before announcing Tyler James Williams as the winner, Coolidge joked about everything from Crocs to her concerns she would mispronounce "people's names".
"I would like Jennifer Coolidge to host my life. Or at least every event," one person tweeted about the memorable speech.
#Fans #praise #sweet #moment #Colin #Farrell #helped #Jennifer #Coolidge #Golden #Globes #stage #accept #award