"Is Erling Haaland not getting the service or does he need to do more?"
That was the question Sky Sports pundit Gary Neville posed after the striker had a peripheral role in Saturday's Manchester derby defeat at Old Trafford.
He registered 20 touches during the 2-1 loss. Lower than any other player on the pitch that played the full 90 minutes. Even Jack Grealish, who came on after 57 minutes, had five more touches and managed a goal.

Thursday 19th January 7:00pm


Kick off 8:00pm

Haaland, though, has scored 21 goals in 17 Premier League games this season and is on course to break the record tally for a single Premier League season (34) at a canter.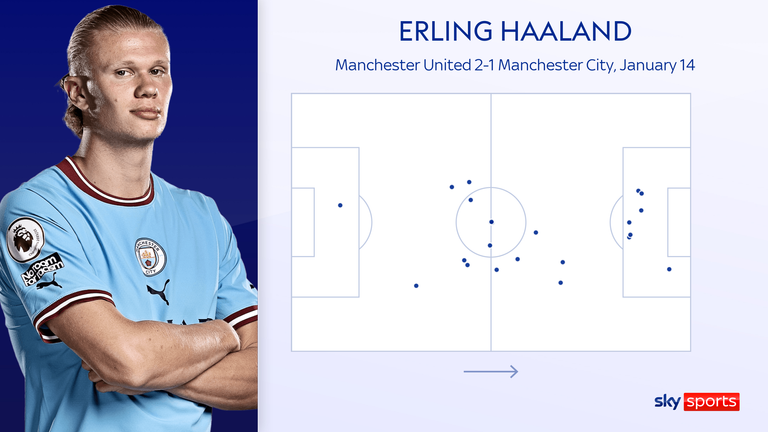 But now he's gone three matches without a goal – something the 22-year-old has done only four times over the past four seasons – it puts his overall game under the spotlight. So, what does he do when he doesn't score?
Pep Guardiola admitted after the defeat to United that Man City need to find a way to get Haaland more involved in the build-up.
"When teams are sat in their 18-yard box, it is more difficult but we have to find him a little bit more, yes," Guardiola said.
"(Against United) he had enough touches, but it's true that when you are looking at areas and you have to look at him. But we will do it."
Haaland has averaged just 26.9 touches per 90 minutes for City in the Premier League this season. Julian Alvarez, the other striker in the squad, is next lowest on 44 touches per 90.
Clearly, it is the forward position in Guardiola's system that sees the least of the ball. Last season Gabriel Jesus (53.9), Raheem Sterling (55.4) and Phil Foden (59) – all three of whom were used as a false nine – had the lowest touches per 90. But City are finding it easier to pass to Alvarez, which suggests that Haaland could be doing more to involve himself in the build-up. But should he?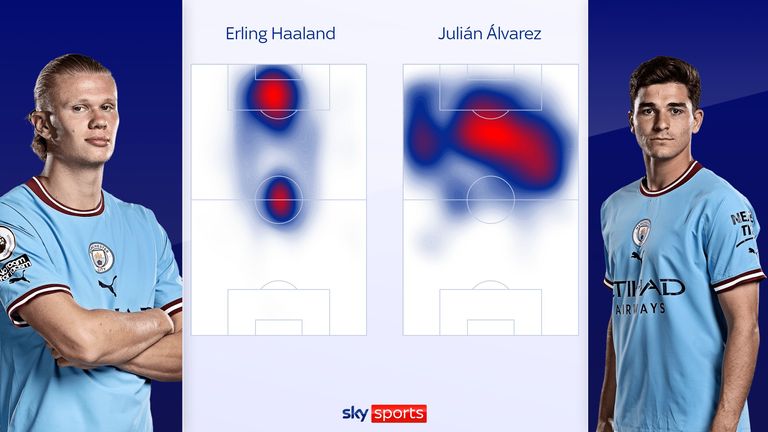 The heatmap comparison of the pair shows that most of Haaland's time on the pitch is spent in the box in between the goalposts, while Alvarez drops back into midfield and out to the wings. It's also where he scores most of his goals.
Haaland's positioning differs from Guardiola's previous preference, but it has delivered a rate of 1.35 goals per 90 in the league. Alvarez, meanwhile, is scoring 0.75 goals per 90 having played more than 1,000 minutes fewer than his team-mate.
With a goal return as impressive as that, why should it be Haaland that adapts? Surely, the onus must be on his team-mates to understand his movements and find him on the pitch. Kevin De Bruyne, who was effectively man-marked by Fred at Old Trafford on Saturday, has been most successful at connecting with Haaland.
The playmaker has passed to Haaland 38 times, crossed to him eight times, created six chances for him and assisted him on four occasions in the league this season. No other City player can match those totals.
But when the De Bruyne supply line was cut off on Saturday, City's £51m striker was starved of service and limited to just two off target shots. The Manchester derby has potentially exposed a weakness in City's star-studded attack. Stop De Bruyne and you can stop Haaland.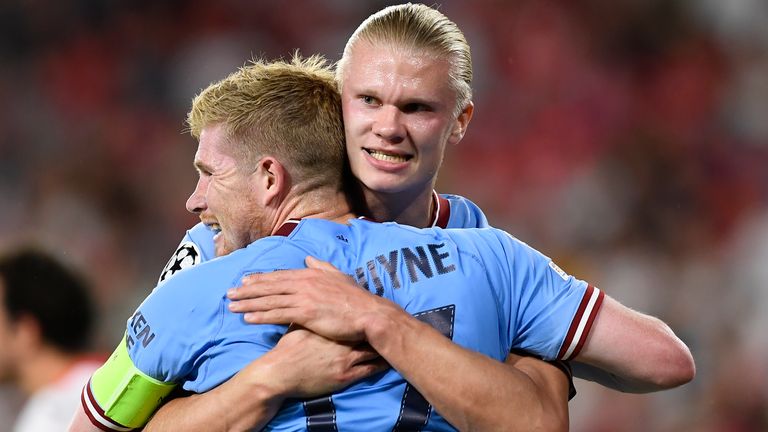 Suddenly, without a goal, Haaland's lack of touches makes it feel as though City are playing with a man down. If he's not in the build up and he's not scoring, Guardiola is missing an extra man in midfield.
But maybe that's not as big of an issue as it first appears.
Haaland may reduce the number of players involved in the build-up, but that doesn't mean he isn't having an impact. For City's opener at United on Saturday, Aaron Wan-Bisska and Raphael Varane almost forgot Grealish was there because of Haaland's presence and the substitute was allowed a free header in the six-yard box.
Even when Haaland doesn't touch the ball he creates space for those around him.
Consider his second league appearance in a City shirt as a prime example. Haaland only managed to notch up eight touches in the 4-0 win over Bournemouth in August and left the Etihad without a goal. What he did do, though, was act as decoy for two of his side's four goals. Effectively, becoming City's Trojan Horse.
Haaland set up Ilkay Gundogan's opener with none of the Bournemouth players following the midfielder's run as they swarmed around the striker. For De Bruyne's he didn't even need to touch the ball. His mere presence was enough to bamboozle the opposition.
Although Guardiola has alluded to Haaland's role not quite being fine-tuned at this stage, Bernardo Silva thinks the striker is doing his job "perfectly".
"The thing about Erling is that he doesn't care about touching the ball," he said at the start of January. "If you play me as a false nine or Phil Foden, after a game playing in that position it is not easy because you don't touch the ball many times and you get frustrated because you need to touch the ball to feel a part of the game.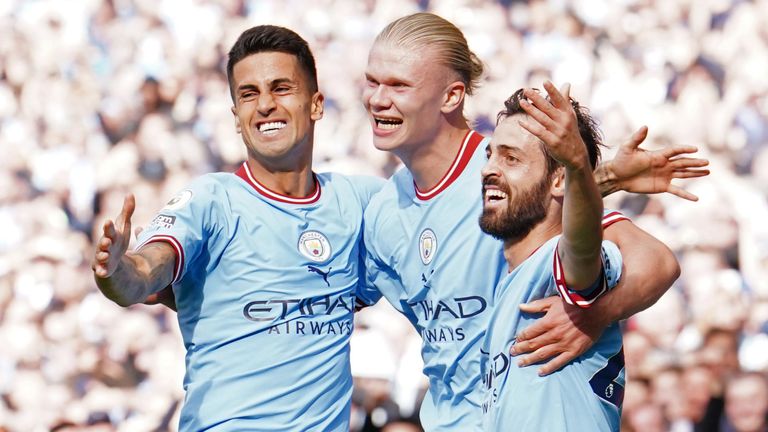 "The good thing about Erling is that he is there and if he doesn't touch the ball for 30 minutes, but he touches it once and he scores, he is happy and delighted. To have that kind of player who is so focused on just the end of the product is great because he knows what he is there for."
For so much of last season the coverage around City was dominated by the debate over whether they needed a striker. Some said it would impact City negatively, others said it would elevate them to even higher levels. That question has evolved somewhat in this campaign, but at its core remains unanswered.
Guardiola has won the last two league titles without a striker, but the Champions League still eludes him at City.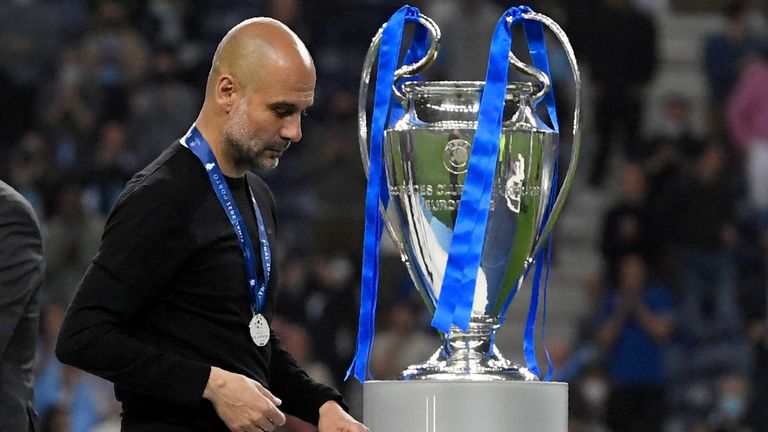 Haaland is six goals ahead of his closest rival in the scoring charts, but City trail league leaders Arsenal by eight points. The Gunners are already three points better off than City at this stage last season and will take some catching.
Ultimately, the outcome of this season will provide a more definitive answer to the question of Haaland and whether he truly makes City a better team. Particularly, the Champions League.
Watch Man City vs Tottenham on Thursday, live on Sky Sports, from 7pm; kick-off 8pm.
#Erling #Haaland #Manchester #City #striker #doesnt #score #Football #News