The final rankings update for the 2023 class is set to be released later this month and there is a lot to finalize before then. Final postseason performances as well as in-person evaluations at the Under Armour Next All-America Game, All-American Bowl, and the upcoming Polynesian Bowl will weigh heavily into this last update to the rankings.
Dozens of players from the East region were active during the all-star season and those results will have an effect on the rankings. Here are the five toughest rankings questions we'll be facing in the East region.
*****
TRANSFER PORTAL: Latest news | Message board | Transfer ranking | Transfer Tracker
CLASS OF 2023 RANKINGS: Rivals250 | Team | Position | State
CLASS OF 2024 RANKINGS: Rivals250 | Team | Position | State
CLASS OF 2025 RANKINGS: Rivals100
*****
Should Samson Okunlola remain a five-star?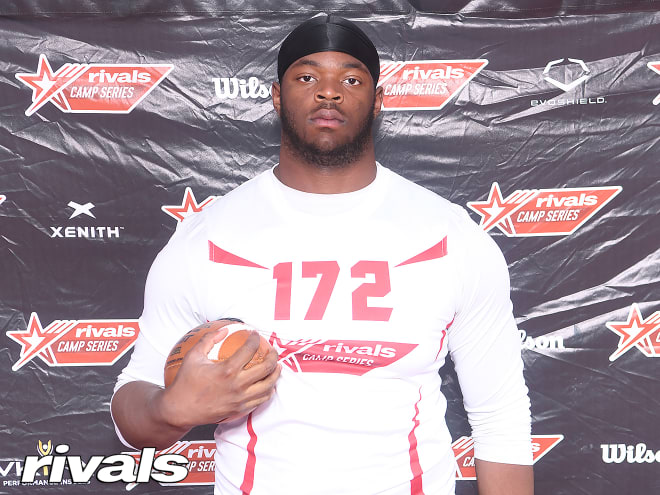 Okunlola remains one of the best offensive linemen in the nation but his five-star status could be in question after a less-than-thrilling performance in San Antonio. The Miami signee has impressive physical tools and he's an elite athlete at the position but his technical prowess did not shine against the top flight defensive linemen at the All-American Bowl.
Physically, Okunlola is plenty big but does not tower over other elite prospects and he doesn't consistently overpower them either. Given his performance on the big stage, it will be interesting to see where he lands in the final rankings update.
SHARE YOUR THOUGHTS WITH MIAMI FANS AT CANESCOUNTY.COM
*****
What to do with Nyckoles Harbor?
Harbor is one of the most unique prospects we've come across and his game is still developing so his ranking is very much up for debate. The five-star is an elite track athlete and presents a mismatch wherever he lines up on the field but it looks increasingly likely that he will play on the offensive side of the ball in college as either a tight end or a jumbo receiver.
In Orlando, his receiving skills were put to the test and in the game he lived up to the hype with multiple catches and had no problem getting open against the elite defenders on the field. Currently ranked No. 26 in the nation, it is likely Harbor sees some movement in this final rankings update.
*****
Will Jven Williams continue to rise?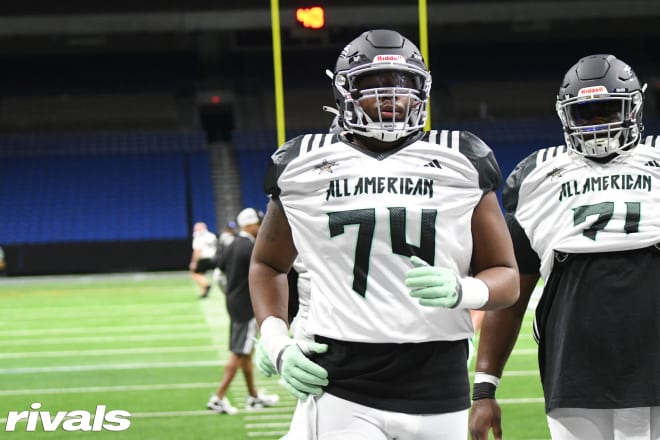 Penn State signed two of the best offensive linemen this year in Alex Birchmeier and Williams, but the latter has been one of the more heavily debated prospects in this rankings cycle. Williams is unquestionably one of the best athletes at the position this year but his in-game performances have been almost exclusively limited to run blocking.
In San Antonio the analyst team got a look at Williams as a pass blocker and gained a better understanding of where he is in his development. What does that mean for his ranking? It remains to be seen how the debate will play out, but there is more information at our disposal to make the final decision on his ranking.
SHARE YOUR THOUGHTS WITH PENN STATE FANS AT NITTANY NATION
*****
Should Jason Moore or Jamaal Jarrett return to the No. 1 spot at defensive tackle?
For the majority of the 2023 ranking cycle, Jarrett and Moore have been at or very close to the top of the defensive tackle position rankings but the all-star season has made the debate over who the top defensive tackle should be a tougher decision. Jordan Hall and Will Norman played very well throughout the series of all-star practices and in their respective All-American games.
Moore was extremely active throughout the week of practices as well and had a good performance in the Under Armour Next All-America Game. Jarrett has already joined the Georgia Bulldogs to begin the next stage of his career but, as it stands, his résumé is extremely impressive.
Alabama signee James Smith has consistently been considered one of the top defensive tackles in the nation and it wouldn't be surprising to see him remain in that conversation. There's also David Hicks to consider, who could move to defensive tackle after his performance in Orlando.
*****
Who else could shake up the rankings?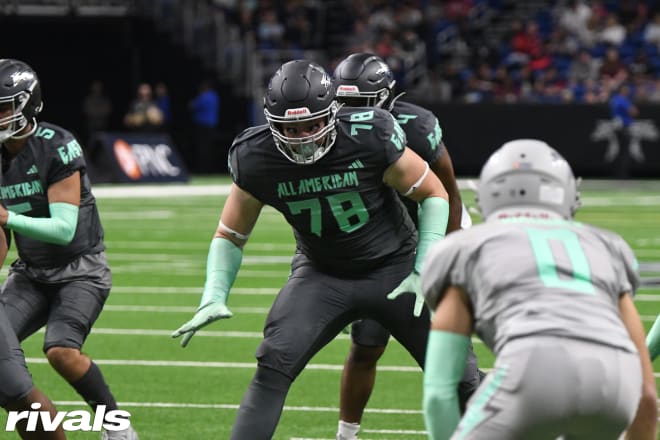 While many of the biggest names on the East Coast have been drawing plenty of headlines, there are others who also put in the work at the all-star games and could end up getting a boost in the final rankings update.
Georgia signee Monroe Freeling showed positive development in San Antonio and the same goes for South Carolina signee Desmond Umeozulu. Ohio State receiver signee Noah Rogers and Notre Dame offensive line signee Sullivan Absher had mixed results during their all-star game performances.
The same could be said for Alabama signee Olaus Alinen and Clemson signee David Ojiegbe, although they seemed to get better as the week in Orlando progressed. Jaedn Skeete, a Boston College signee, showed well on the big stage, too.
#East #Region #Spotlight #Toughest #rankings #questions