India's petrol consumption hit an all time high during the October-December quarter this fiscal scaling almost 9 million tonnes (mt) aided by growing affluence as consumers splurged on personal vehicles, particularly two-wheelers.
According to the Petroleum Planning and Analysis Cell (PPAC) data, petrol consumption rose more than 7 per cent y-o-y and 3.5 per cent sequentially to hit 8.9 MT in the third quarter, which is also the festival season for the world's third largest energy consumer, in FY23.
It is also the highest motor spirit (MS) consumption so far for the third quarter of any financial year, pointing towards growing affluence as Indians, including consumers in rural areas.
Petrol consumption, which accounted for 16 per cent of the total petroleum products consumed till December in FY23, can primarily be attributed to growth in the personal mobility segment.
Growing demand

Hetal Gandhi, Director (Research) at CRISIL Market Intelligence and Analytics, pointed out that petrol has the second largest consumption among petroleum products, after diesel, in FY23 y-t-d (April-December).
Over the past five years, petrol demand has witnessed a steady growth of 5 per cent between fiscals 2017-22. MS demand reached historical highs in Q3 FY23, witnessing a growth of 8 per cent during the period, she noted.
"Incremental growth can be primarily attributed to improving personal transport driving growth. A key indicator for growth in mobility is witnessed by improvement in volume of tolling receipts, between October-December 2022. The volume of tolling receipts collected improved by 31 per cent y-o-y indicating a healthy growth in personal mobility," Gandhi said.
Demand for petrol is largely driven by the automobile segment, primarily two-wheelers and passenger cars, which accounts for around 99.5 per cent of consumption.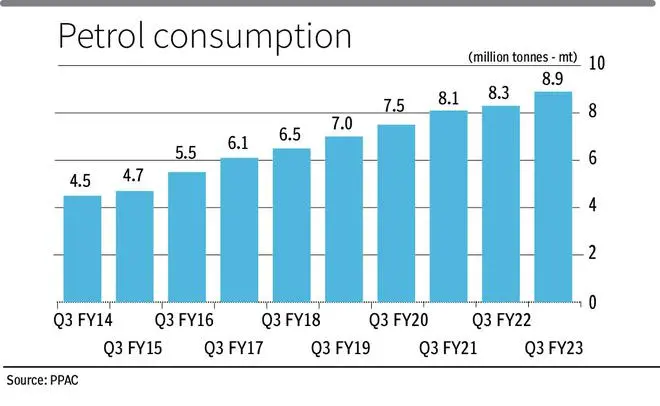 The Indian automobile industry registered its best ever annual performance last calendar year with passenger vehicle sales clocking close to 38 lakh units (37.93 lakh units). Its previous best was in 2018 at 33 lakh units.
Similarly, pan-India retail sales of two-wheelers stood at around 1.54 crore in calendar year 2022, a growth of 13.31 per cent over 2021 and 10.50 per cent over 2020.
Growth momentum to continue

Gandhi expects that post the decline in three consecutive fiscals, demand for two-wheelers is expected to improve by 21-23 per cent y-o-y in FY23. Demand for passenger cars is also expected to grow by 27-29 per cent y-o-y in FY23.
"Demand for petrol and diesel saw a healthy growth in FY23 y-t-d(April-December) witnessing a growth of 15 per cent and 14 per cent y-o-y, respectively. Going forward we expect marginal moderation in demand post festive season coupled with slowdown in economic activity is expected to weigh down on demand on quarter," she explained
However, Crisil Research expects petrol and diesel demand to improve by 9-11 per cent and 6-8 per cent y-o-y, respectively in Q4 FY23 over a healthy base of previous year. For FY23, the agency expects petrol and diesel demand to grow by 10 per cent and 13 per cent y-o-y, respectively pushing overall consumption to historical highs.

#Domestic #petrol #consumption #record #high #FY23 #Indians #splurge #personal #mobility