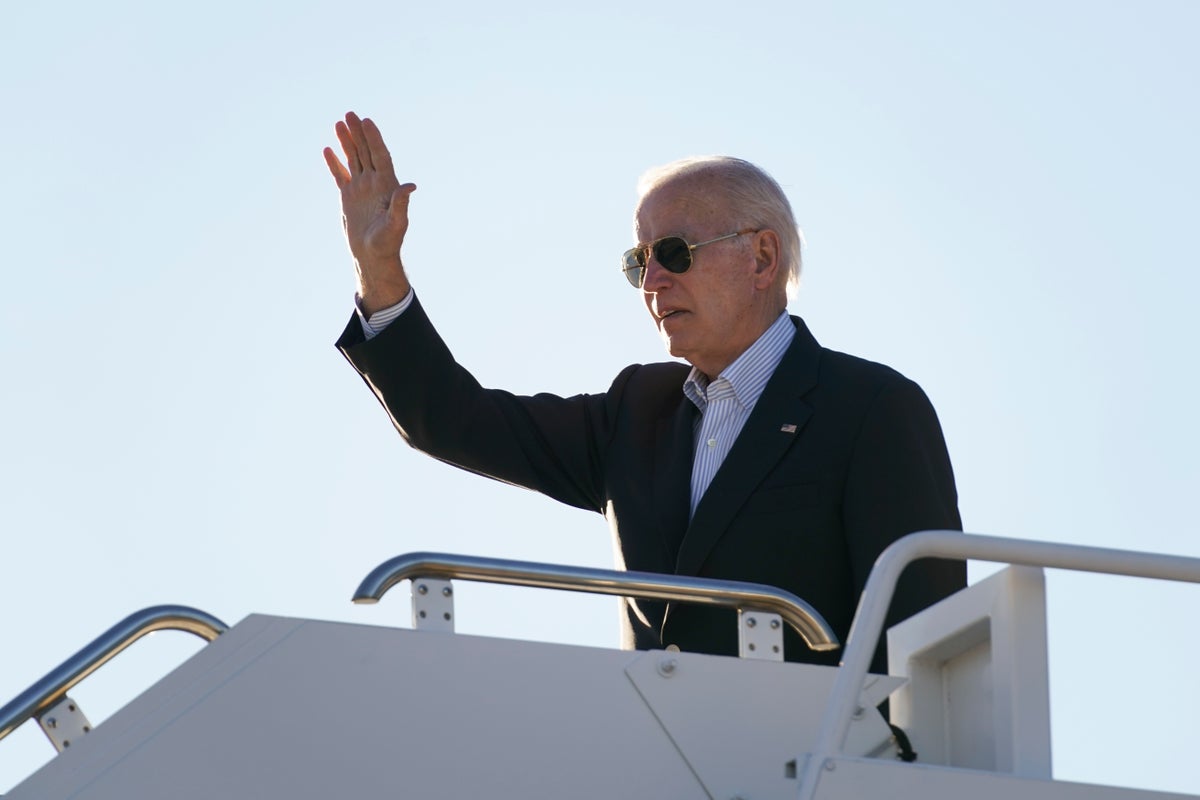 When the news first broke, a sense of deja vu seemed to wash over the nation's capital. Classified documents were recovered from the Penn Biden Center for Diplomacy and Global Engagement in Washington DC, where Joe Biden kept an office after serving as vice president.
Attorney General Merrick Garland has now assigned the US attorney in Chicago to review a number of potentially classified documents taken from the think tank – including potentially classfied documents from President Joe Biden's vice presidential office.
The documents' discovery, and the subsequent admission by Mr Biden's team, has set off a firestorm in Washington thanks to the obvious parallels between the president's situation and that of Donald Trump. Mr Trump remains under investigation for the illegal retention of presidential records including dozens of classified records after the FBI raided his Mar-a-Lago estate last year.
The scope of Mr Biden's trove is much narrower, but regardless is raising accusations of hypocrisy from Republicans who argue that Democrats are holding Mr Trump to a standard that they themselves did not meet.
Several Republican politicians who tried to dismiss the discovery of classified materials during an FBI raid of Mar-a-Lago are suddenly shocked at the discovery when it relates to Mr Biden.
It's a sudden change of heart that reveals the very political side of Washington politicians.
Here's is everything we know so far.
Who found the documents?
In a statement provided on Monday, Special Counsel to the President Richard Sauber said that Mr Biden's lawyers found the documents on in early November as they were "packing files housed in a locked closet to prepare to vacate office space at the Penn Biden Center," the think tank affiliated with the University of Pennsylvania where Mr Biden had an office during his years out of public service.
During that process, Mr Biden's personal lawyers came across a folder that appeared to contain classified documents and reported the finding to the authorities. In total, the trove contained less than a dozen documents marked classified, with some marked "top secret".
On Tuesday, new details began to emerge surrounding the actual contents of the documents. About 10 papers were found, including intelligence briefings and briefing memos related to the United Kingdom, Ukraine and Iran, according to CNN. Beyond that, not much is known about the contents of the documents.
Who is investigating?
Following the discovery of the potentially classified documents at the think tank, Mr Biden's attorneys contacted the National Archives and Records Administration. That entity then took possession of the documents and informed the Department of Justice about the situation.
Attorney General Merrick Garland's response was to order John Lausch, the US Attorney for the Northern District of Illinois, to investigate the handling of the documents and issue a report on the situation.
Mr Lausch is a Donald Trump appointee who is a graduate of Harvard University and Northwestern University. Unlike a number of other Trump-appointed US attorneys, Mr Lausch was not asked to resign when the Biden administration took office in 2021 — on the contrary, Illinois's two Democratic senators sent a letter to the president requesting that he be allowed to stay on.
The White House said on Tuesday that it was cooperating with the investigation.
"This is an ongoing process under review by DOJ, so we are going to be limited in what we can say at this time. But we are committed to doing this the right way, and we will provide further details when and as appropriate," said Ian Sams, a spokesman for the White House counsel's office.
Then there's Mark Warner, chair of the Senate Intelligence Committee. Apparently unhappy with the Biden Justice Department for not keeping his panel in the loop last year after documents including classified materials were taken by FBI agents from Mar-a-Lago, Mr Warner moved on Tuesday to formally request a congressional briefing.
What are politicians saying?
President Joe Biden, for his part, is not saying much at all.
On Tuesday, he dodged questions from a reporter on the issue, marking the second time in two days he has done so.
Biden ignores reporter's question about classified documents for second day in a row
Another man is, predictably, quite interested in the finding: former President Donald Trump, who is being investigated for mishandling classified documents in the aftermath of his presidency and had his Mar-a-Lago residence searched by the FBI last summer.
"When is the FBI going to raid the many homes of Joe Biden, perhaps even the White House? These documents were definitely not declassified," Mr Trump wrote on Monday evening on the social media platform Truth Social.
Mr Trump, who is running for president again, did not offer any information to back his claim that the documents were "definitely not declassified," nor did he provide any reason why law enforcement would have reason to search Mr Biden's homes or the White House.
Other conservatives like far-right activist and talk show host Charlie Kirk suggested that the media had covered up the story, even though CBS News was responsible for breaking the story.
Many Republicans on Capitol Hill painted the issue as a double standard, and called for the same FBI raids they had decried just months earlier. Some, like Rep Andy Biggs, veered completely into baseless conspiracy theories, including charges that Chinese government officials supposedly had access to the documents.
Ronny Jackson, congressman from Texas, issued an outraged statement: "It's just been discovered that Biden had HIGHLY CLASSIFIED DOCUMENTS that were improperly stored in one of his private offices. INCREDIBLE! WHERE is the FBI? WHERE is the dramatic raid?"
There's no reporting or any other evidence so far to suggest that Mr Biden retained any documents at his personal residences, or that any other documents were retained beyond those already handed over.
Mr Trump's son, Donald Trump Jr, echoed the sentiment: "Biden kept classified documents from the Obama administration that he as VP would not have had the ability to declassify and I have yet to hear about the FBI Hostage Rescue Team raiding one of his homes? Why the double standard?"
What happens next?
Mr Lausch is expected to issue a report at some point that sheds light on the nature of the documents and how they came to be stored in an office that Mr Biden used occassionally between stints in government. Barring any new revelations, the content of that report will likely dictate what happens next.
At some point, Mr Biden will likely need to address reporters' questions on the matter. Mr Biden's situation is quite different from Mr Trump's in that attorneys for the sitting president swiftly informed the National Archives and Justice Department of the situation. Mr Trump, for his part, did not contact the federal government about his own cache of documents. That, legal experts say, amounts to a crucial difference between the two cases.
Nevertheless, with Republicans now controlling the House of Representatives, expect the GOP to extract whatever political advantage they can from the situation.
#GOP #outrage #dodged #questions #DOJ #review #Bidens #classified #document #haul #rocked #Washington